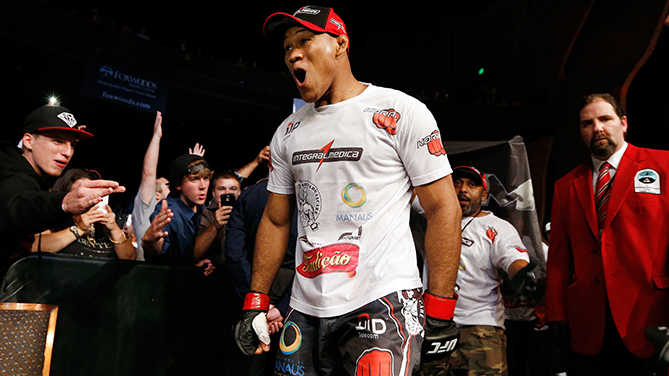 Jacare Souza became the first UFC fighter to finish Gegard Mousasi last Friday night in the main event of Fight Night Foxwoods and has made a jump to the No. 2 spot at middleweight in the latest official UFC rankings.
Souza was dominant against Mousasi, demonstrating his elite skills on the feet and on the ground when he was able to take down the former Strikeforce light heavyweight champion. Jacare moves past Vitor Belfort in the rankings and drops former No. 1 contender Lyoto Machida to No. 4.
> Check Out The Complete List of Updated UFC Rankings
Machida used his decision win over Mousasi in February to earn a title shot against division king Chris Weidman at UFC 175. Jacare feels he has now earned his shot and is hoping his win over Mousasi has the same effect.
"At first I thought it would be easier to take [Gegard] down," Jacare said at the Fight Night Foxwoods post fight press conference. "I was trained for this. I thought my takedowns were on point. I had some difficulties to overcome, but surely this puts me in line for a title shot. I want to fight the champion."
Belfort is up next against Weidman, and the two are set to meet in the main event of UFC 181 in Las Vegas. It was reported last week that UFC president Dana White was eyeing a bout between Machida and No. 5-ranked Luke Rockhold sometime this year, but Rockhold is now set to face Michael Bisping, who moved up a spot to No. 7 in the latest rankings, in a grudge match at Fight Night Sydney on Nov. 7.
White was asked about Jacare's position within the division following the event last Saturday and, with Belfort and Weidman set to battle later this year, Jacare may need to find one more dance partner before he is granted his title shot. It looks like Machida may be available.
> Read: Complete Fight Night Foxwoods Recap
In other movement in the rankings, Ben Rothwell made his presence felt in a big way at Fight Night Foxwoods when he stopped Alistair Overeem in the co-main event. Rothwell makes his debut at No. 9 in the heavyweight rankings, pushing Overeem all the way from seven down to No. 10.
Stipe Miocic moved past Josh Barnett into the No. 5 spot, while Mark Hunt (No. 7) and Roy Nelson (No. 8), who are set to meet in the main event of Fight Night Tokyo on Sept. 20, both moved up a spot. Frank Mir (No. 11) dropped out of the top 10, Gabriel Gonzaga moved down to No. 12, and Minotauro Nogueira fell three spots to No. 15. Brendan Schaub fell off the list completely.
We're less than three weeks away from UFC 178 at the MGM Grand in Las Vegas, where new UFC lightweight Eddie Alvarez is set to make his Octagon debut. Alvarez made his rankings debut this week at No. 14 on the 155-pound list, dropping Ross Pearson to No. 15 and Gray Maynard off the list.
Glover Teixeira moved into a tie at No. 3 with Rashad Evans last week, but falls back to No. 4 this week at light heavyweight. Mark Munoz moves up a spot at 185 into a tie for No. 13 with Tim Boetsch.
Zach Makovsky moved past Timothy Elliott into the No. 9 spot at 125 pounds, and Bryan Caraway moved past Johnny Eduardo to No. 8 at 135 pounds. Joe Soto, fresh off his gutsy performance against champion T.J. Dillashaw at UFC 177, moved up to no. 14 in the bantamweight division to complete this week's movement.