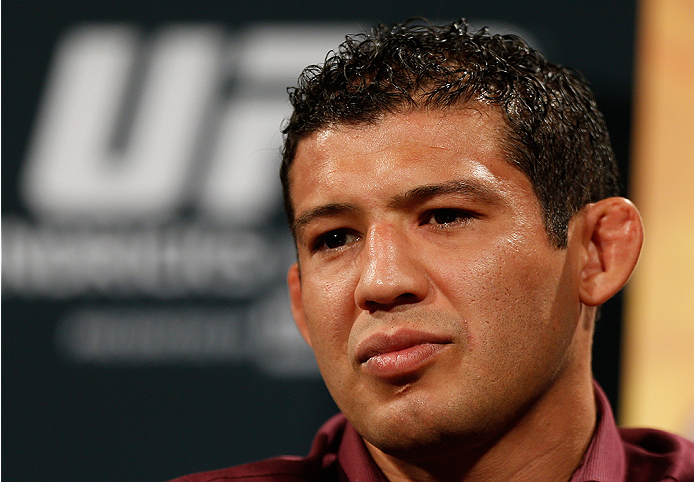 The aftermath of
Gilbert Melendez
' first UFC title fight could have been disastrous. Following years of excellence atop the lightweight division in the
Strikeforce
organization, his UFC debut against then-lightweight champion
Benson Henderson
in April of 2013 saw him lose a controversial split decision.
Cue the dramatic music that leads to the fall of "El Nino," as he's unable to shake off the defeat and get back to where he was in the 155-pound pecking order.
Thankfully, it didn't turn out that way for Melendez, who instead bounced back with a win in a Fight of the Year candidate against
Diego Sanchez
, earned a spot coaching on season 20 of
The Ultimate Fighter,
and will now fight his coaching rival –
Anthony Pettis
– for the UFC lightweight title in the co-main event of UFC 181 on December 6 in Las Vegas.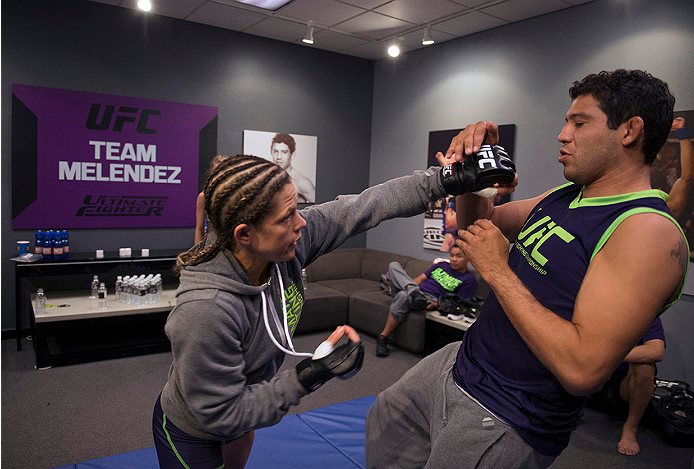 And it all started on the drive home from the HP Pavilion with his wife Keri Anne after the Henderson fight.
"I'm an optimistic guy," Melendez said. "I always think the glass is half-full, and I envision things. I visualize a lot, and I did visualize myself winning that fight (against Henderson). But immediately on the way home, I'm driving back with my wife and we started envisioning the new path. I knew I had one fight left on my contract, so I knew I had to take care of winning that fight (against Sanchez) to put myself in an excellent situation. I went out there and did that, and when I did that I knew some things were lined up for me. I didn't know what, but I knew there were going to be some good things. The Fight Gods are on my side for some reason."
Melendez laughs, comfortable in the fact that once again, he's one win away from adding a UFC lightweight championship belt to the Strikeforce belt he held for several years. And if you want to see how much of a good mood "El Nino" is in, ask him if he heard Pettis say recently that he will take Melendez out in a round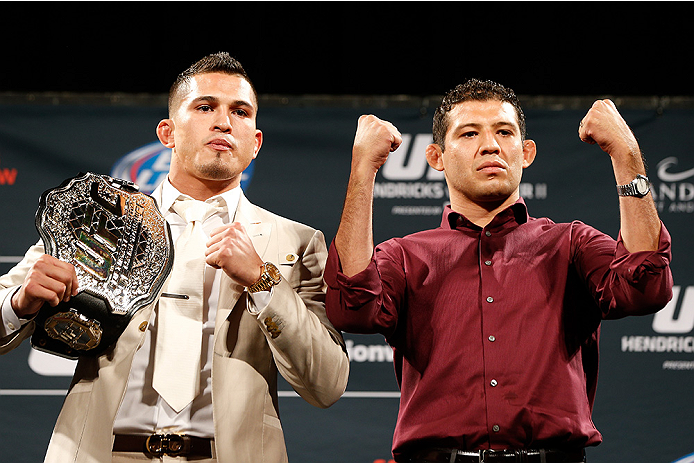 when they fight at the Mandalay Bay Events Center.
"Yeah, I did hear that," he said. "Sounds like a little plagiarism from (featherweight contender)
Conor McGregor
. But it did make me laugh. And it made me laugh because he can't really believe that. I haven't been finished in my career, and that's a tough thing to live up to. So he's either trying to sell the fight or really hype himself up. More so than anything, it shows a little sign of weakness if you ask me."
That's the view from the inside from a guy who actually fights in that Octagon. From the outside, you have to wonder what that can do for a fighter's psyche if he calls his shot like Pettis did and doesn't deliver. Melendez believes that's a valid point.
"That's why you can't be doing stuff like that," he said. "What's gonna happen at the end of the first round when he loses the first round and he has four more to go with me? I can't wait to tell him after the first round that he's in for a war, and I think it will shake his confidence a little bit. You can't bite off more than you can chew."
Winner of eight of his last nine bouts dating back to 2009, Melendez isn't just a fighter known for his physical pressure and ability to take opponents out of their own game in order to implement his own attack. He's also a thinking man's fighter, a trait that has served him well as an analyst for FOX Sports. But in addition to being another avenue for him to excel at, Melendez' gig behind the desk also aids him in breaking down future opponents like Pettis.
"It helps me analyze things a little better and really break down fights," Melendez said. "The UFC gave me my FIGHT PASS code (Laughs), so I'm able to check Anthony Pettis' fights out and break them down, and learn how other fighters break down fights as well. It's kind of like the meeting of the minds with some really intelligent fighters that are analysts, and you learn a lot – not just from being an analyst but from being amongst great analysts as well."
But will it all matter against a talent like Pettis? "Showtime" is one of the most unique fighters in the sport today, an almost impossible athlete to replicate, but on that point, the 32-year-old Californian disagrees.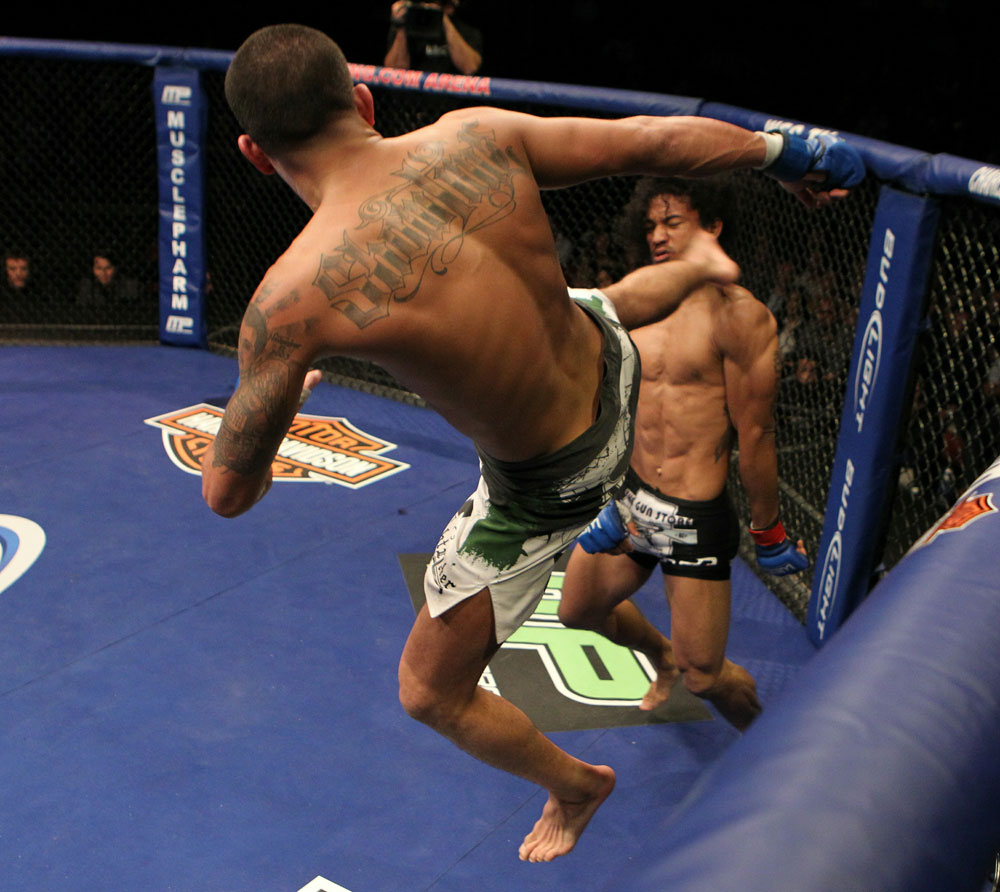 "I think it is possible," Melendez said. "He (Pettis) has been successful running off the cage and catching that kick and he's done some neat stuff, but mainly he's a strong kicker and a very elusive guy. He has that Taekwondo style, and you can replicate that. I've been able find good fighters who are helping to prepare me. It's hard to find someone as good as Anthony Pettis that's a complete mixed martial artist, but there are a lot of great strikers out there. I have a great Muay Thai coach who has dealt with numerous fighters who are way better strikers than him in his career and he has given me a lot of confidence. I think it's harder to find someone to replicate me. I'm someone who can box, but also wrestle and do it all."
And that's what Melendez hopes will give him his first UFC title belt. He's thought of that moment a million times, and now it's even tougher knowing that he still has to wait nearly two months for that opportunity to make it a reality.
> Watch: Gilbert Melendez on EA SPORTS UFC
"It has been tough," he said. "Being eager to get into this camp, you have these peak-outs when you have to take your foot off the gas pedal to make sure you don't overdo it, and you go up again and down again, and it's this little up and down curve that you're doing just to stay prepped and not over-prepped. But it's finally here and camp is going now and I can't wait to be four or five weeks into it and start feeling amazing and start feeling like I'm ready to be the next champion of the world. It's always difficult dealing with that, but I'm happy."