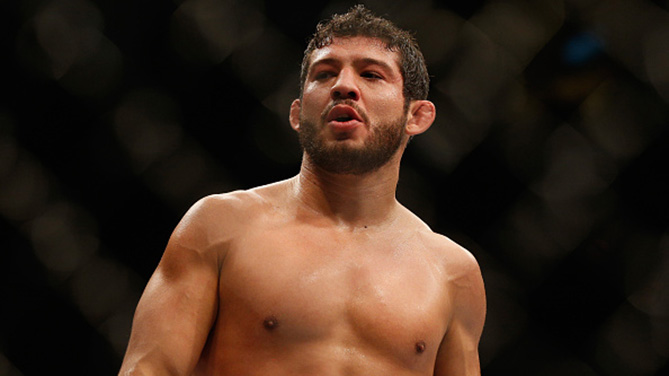 At 33 years old, and just days away from a UFC 188 co-main event against
Eddie Alvarez
, it's clear that
Gilbert Melendez
is not knocking on the door of retirement yet. But that doesn't mean it hasn't crossed his mind yet. The only thing is, "El Nino" keeps moving the goalposts.
"Every year I say I'm gonna retire in five years," he laughs, "but I love the gym, I love sparring, I love training and I love the sport."
There's no better reason to stick around than that, along with the fact that despite nearly 13 years as a pro, Melendez is as relevant as ever at 155 pounds, something a lot of his peers from 2002 can't necessarily say.
"I have a great team and we've been relevant for years," Melendez, who counts the Diaz brothers, Nick and Nate, as well as
Jake Shields
, as his longtime squad mates. "I've been in the top ten for years, and people come and go. Some have had their runs and they've been above me, but they're completely off the map now. I've worked so hard to stay relevant and be a solid fighter and always be a student. Maybe at times I've been number one or number two, but I'm always in there, and I take pride in that."
If we're getting technical, Melendez currently sits at number four in the official UFC rankings following his December loss to
Anthony Pettis
in their lightweight title fight, with only Pettis,
Donald Cerrone
and
Khabib Nurmagomedov
above him. A win over the ninth-ranked Alvarez may not move him up, but it will go a long way toward settling a score years in the making.
"I have been waiting for this fight," Melendez said. "This is a guy that I initially saw, and I respected his style and I thought we'd make for a great matchup, and I'd love to challenge myself against him. A little bit of drama built, nothing that I'd lose sleep over, but a little bit of disrespect, so I'm excited to fight him and punch him in the face. (Laughs) But I am focused. This is a guy I've kind of been mentally preparing for for years, and I've been visualizing him for a while and visualizing that matchup. I've always known I was going to fight him, fight (Josh) Thomson, and fight (Jorge) Masvidal. I always knew those fights were going to happen from a young age, so it's not another day in the office."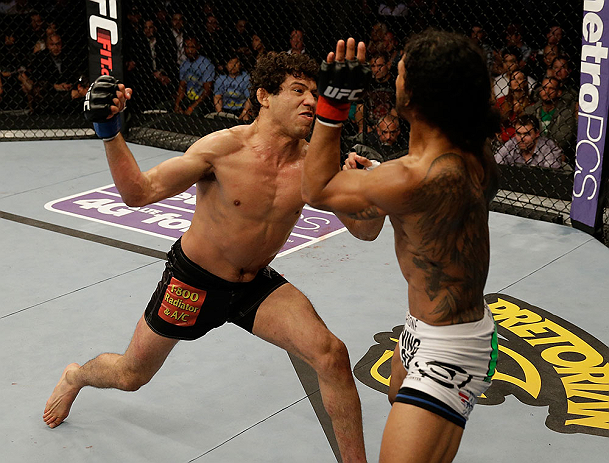 With
Strikeforce
titles on the line, Melendez faced Thomson three times, winning two, and also defeated Masvidal, giving him a 75% winning rate against those veterans he knew he would meet one day. If he can up that rate to 80% this weekend with a win over Alvarez, that would be nice, and in the eyes of the Californian, Alvarez has not evolved the way he has.
"I haven't really seen him develop," Melendez said. "That doesn't mean he can't develop and sharpen up and come out prepared this fight, but I haven't seen anything completely new from him. I have seen more footwork than before, but I haven't seen anything too slick. I've seen all his fights, he throws big punches, they come in barrages, he has footwork, decent takedowns, and he's tenacious in the grappling. It's not the prettiest or slickest, but he does everything well. But I try to adapt to different fighters, and I feel like he's the same guy for every fighter."
Another edge for Melendez may be that the longtime veteran of the championship rounds is only going 15 minutes or less this time, and if you need a reminder of what Melendez does over three rounds, just look at his 2013 Fight of the Year candidate with
Diego Sanchez
.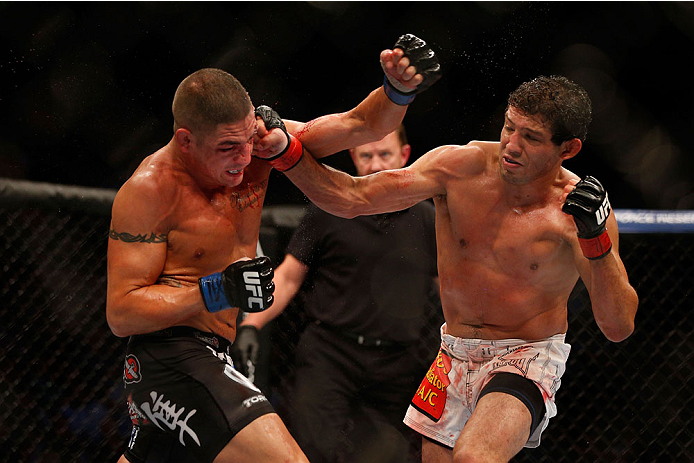 "You fight more conservative in a 25-minute fight," he said. "It's a different pace, and it's tactical. I'm not scared to get tired or anything like that, but I don't want to compromise my form and position and give up a takedown that would make the difference in a round. So that takes away from me wanting to be aggressive for 25 minutes. It's tough, and in a 15-minute fight you can take more of those gambles because you can just explode and go for it."

And as Melendez points out, for a five-round bout, it's a mental struggle in the fight, but a physical one in the gym.

"Preparing to be in great shape and go hard for 25 minutes takes a lot of work, and more than a lot of work, a lot of rounds sparring and a little extra damage on the body," he said. "It's a little taxing on the soul, the mind and the body. It's cool when you're young. I was turning those things around quick. (Laughs) It's fun at first, but after a while, it's tough on the body."

No, Melendez has not applied for his AARP card before the age of 35.

"You know my style," he laughs. "It ain't sugar or smooth, I'm taking two to get one. But 15 minutes is a lot more fun and it's easier to fight my pace by sprinting and giving it all I got."

Sounds like another Fight of the Night in the making. But what's next after that? Another title run? This veteran plays it cool and smart when it comes to such talk.

"I don't really have an answer yet for that," he said. "I know I need to win this fight and I need to impress, and then I can start thinking about that. I had two chances (at the UFC title) and I really blew that second chance. I have to be hard on myself and I need to do something in this fight before I can even mention that belt. My goal is to be prepared and look good and sleep at night after my fight knowing that I did everything I could to prepare for that fight, and win or lose I gave it my best. I don't care about losing, I just hate not being prepared and not being my best Gilbert Melendez out there more than anything. I'm a realistic guy. I feel like I'm in the late third quarter of my career, but I do have too much pride to go in there unprepared and not feeling confident."