In his first middleweight bout since April of 2013, former – and perhaps future - welterweight contender Kelvin Gastelum scored a one-sided second round TKO over veteran contender Nate Marquardt.
> WATCH: Kelvin Gastelum Backstage Interview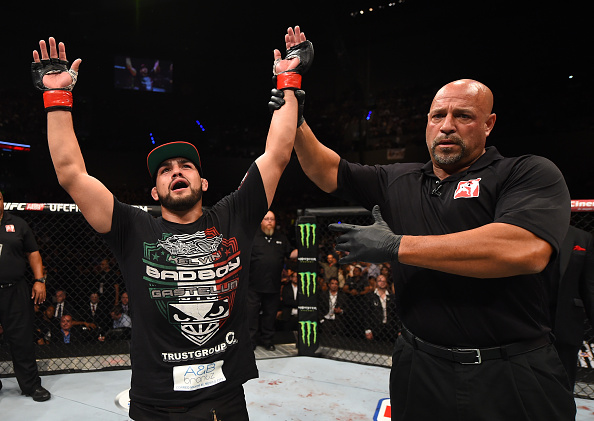 With the win, Gastelum, who was sent back to middleweight after a series of battles with the scale at 170 pounds, improves to 12-1; the 36-year-old Marquardt falls to 36-15-2.
Gastelum's pressure and hard combinations kept Marquardt on the defensive in the early going, reddening the veteran's face in the process. Marquardt began to catch a bit of a rhythm midway through the round, but a takedown by Gastelum and some hard flurries by the Arizonan just before the horn wrapped up the round for the former Ultimate Fighter winner.
Maintaining the momentum he had throughout round one, Gastelum landed almost at will in the second on the game, but outmatched, Marquardt, who simply had no answers for the 23-year-old. As the round ended and Marquardt sat on the stool in his corner, he told his coach Trevor Wittman that he had nothing left, and upon hearing that, Wittman immediately called the bout.