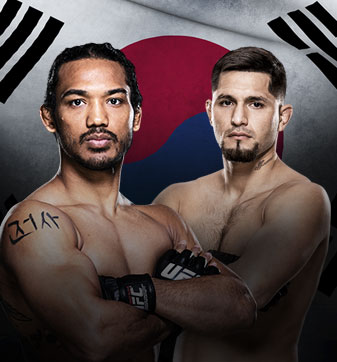 The international travel of the UFC in November will come to a close this weekend, as Benson Henderson and Jorge Masvidal headline the first ever card in Seoul, South Korea in a show airing exclusively on UFC FIGHT PASS.
Henderson has been out of action for several months due to injury, but the former lightweight champion is now ready for his second straight fight at 170 pounds after debuting in his new division earlier this year and taking out top prospect Brandon Thatch.
Masvidal is also a former lightweight competitor who opted to move up in weight as well, and now he'll look to go 2-0 at welterweight following a win over Cezar Ferreira in July.
Also on the card this weekend, Dong Hyun Kim will look to get his second win in a row as he takes on late notice replacement Dominic Waters in a welterweight co-main event. Kim most recently submitted Josh Burkman, a victory which moved him to 5-1 over his last six fights.
With a ton of local talent filling out the undercard and some crowd favorites headlining the show, there are a ton of tough fights to pick from, but today's fantasy preview will break down some of the key matchups to give you the edge ahead of UFC Fight Night: Henderson vs. Masvidal.
SPLIT DECISION
These are the fights that are just too close to call, but a few minor differences between favorite and underdog could lead one fighter to victory and the other to defeat.
Benson Henderson (-255 favorite) vs. Jorge Masvidal (+215 underdog)
Two former lightweights will now face off at welterweight in a bout that has war written all over it. Henderson has remained one of the best fighters in the world over the last few years while winning and then defending the UFC lightweight title before bumping up for his last fight, where he took out Brandon Thatch. Henderson is as complete a fighter as you could hope to meet in mixed martial arts, with good wrestling, dangerous submissions and a particularly brutal kicking game.
On the other side stands Jorge Masvidal, who remains one of the most underrated fighters on the planet, one who is always capable of facing the best in the world from the champion on down and he'll make it a fight. Masvidal is tough as nails and doesn't go away easy, and now that he's not cutting a tremendous amount of weight, he might actually be a step faster, stronger and more conditioned going into this five-round main event.
So where do these fighters separate to decide this main event?
Statistically speaking, they are almost dead even in every category from striking to grappling, but where Henderson excels is against top level competition. He's had a few close calls in fights, but Henderson knows how to eke out rounds if need be by going for a takedown late or just landing a few more punches than his opponent. Henderson also has a killer instinct that allows him to win rounds while still looking for the finish, even if the fight is deep into the final minutes.
Henderson has to be wary of Masvidal's power and boxing, which are both very good, but if he can take this fight deep into the third or fourth round, he should be able to take over with his pressure-heavy style while mixing in a few takedowns to keep the American Top Team fighter off balance. It's going to be a grind because Masvidal won't just fade away, even if he's down a couple of rounds, so Henderson will have to be on guard, but ultimately he should be able to do enough with his striking game, combined with a few key takedowns, to earn the decision.
Prediction: Benson Henderson by unanimous decision
Yoshihiro Akiyama (-200 favorite) vs. Alberto Mina (+160 underdog)
Yoshihiro Akiyama will look for his second consecutive victory when he returns this weekend against undefeated Brazilian prospect Alberto Mina in an intriguing battle at 170 pounds.
Akiyama looked good in his last outing against Amir Sadollah, but his recent career has been plagued by injuries and time off. When he's on his game, Akiyama is still a tough matchup for anybody in the welterweight division. To win this fight, Akiyama will probably have to abandon a lot of his striking game in favor of wrestling Mina to the floor and looking for ground-and-pound or possibly a submission attack.
Mina looked great in his UFC debut while landing just under 59-percent of his strikes before putting his opponent away by TKO. Mina certainly isn't afraid to go to the ground, where he's picked up a slew of wins by submission, but chances are he'll look to take out the wrestler with his heavy hands. Mina also has some nasty knees that he likes to uncork from time to time, and if Akiyama gets sloppy with a shot, he could eat one of those on his way towards a takedown. Timing is key, but if Mina lands one, it could be lights out for Akiyama.
That being said, Akiyama may not be a top contender anymore, but he's still gritty enough to pull out a win here. They key is getting in close so Mina can't work his striking game, and after five or 10 minutes of constant pressure, mixed in with some takedowns, and Akiyama's confidence will only grow.
Prediction: Yoshihiro Akiyama by unanimous decision
Cortney Casey (-155 favorite) vs. Seohee Ham (+115 underdog)
Cortney Casey and Seohee Ham will each look for their first win inside the Octagon after both women lost their debut bouts to Joanne Calderwood. Casey went to war in the early going with the former Ultimate Fighter competitor, while Ham struggled to deal with Calderwood's striking from the outside, as she gave up a lot of size in the fight but still stuck around to give the Scottish fighter everything she could handle and more.
Casey will step into enemy territory for her fight this weekend, but she's got a ton of experience under her belt at the amateur and professional level, with a good striking game and solid wrestling as well. Ham has more pro fights on her record, and throughout her career she's been able to outwork her competition, with the majority of her fights ending by decision. Ham has plenty of power in her hands, although she is fighting at 115 pounds now, which is higher than her natural weight of 105 pounds.
Ham is very good at distance, but she often ends up walking into her opponent, which allows them to counter with a takedown or good clinch fighting. Those are two areas where Casey is slightly better, and her fast start out of the gate should allow her to put the pressure on Ham right away.
If Casey is able to force Ham into a fight against the fence, using superior power and technique to frustrate the South Korean fighter, she should be able to steal rounds and avoid her power from the outside. Casey needs to keep this one in a phone booth because if Ham gets down her timing and range from the outside, she could start landing huge combinations to turn the tide of this fight in a hurry.
Prediction: Cortney Casey by split decision
KNOCKOUT PICKS
These are the fights that appear to be a little more one sided, but remember that this is MMA, where anything can - and usually - does happen.
Dong Hyun Kim (-530 favorite) vs. Dominic Waters (+350 underdog)
The most decisive odds on the entire card belong to local favorite Dong Hyun Kim, who remains one of the top welterweights in the sport, and he faces off with Dominic Waters, who was selected as a late notice replacement following injuries that forced the card to get shuffled at the last minute.
Waters is a very quality replacement, with a 9-3 record overall and some very solid wins on his record, but stepping in to face one of the best welterweights in the world in his own backyard is a tall order for anyone, much less somebody taking the fight on short notice.
Kim has improved upon his striking over the last couple of years to really become a solid kickboxer, which was a great addition to an already suffocating ground game. Kim now has all the weapons to be a threat to the top of the division and he's mixing things together very well in his last few wins.
Waters has been training out of the Jackson-Winkeljohn gym in New Mexico, so there's little doubt that coaches Greg Jackson and Mike Winkeljohn will get him as prepared as possible with the best strategy to get through Kim's formidable offense. Unfortunately, even with six weeks of preparation, this is a very tough fight to take, much less doing it on just a couple of weeks of notice.
Expect Waters to come out aggressively to try and surprise Kim with something early because he has been a slow starter from time to time in the past. But if he gives up a takedown or just can't seem to find a home for his strikes, it's probably all downhill from there. By the late first or early second round, Kim should take over and look to finish this fight with either a barrage of punches or the more likely scenario where he sinks in a submission.
Prediction: Dong Hyun Kim by submission, Round 3
Yui Chul Nam (-140 favorite) vs. Mike De La Torre (+100 underdog)
This fight is certainly not an easy pick, but Yui Chul Nam remains one of the best prospects coming out of South Korea, and with this fight happening close to home, he should be able to get the job done against visiting featherweight Mike De La Torre.
Now, De La Torre has his advantages in this fight, most notably a phenomenal team to get him ready, as he's training out of the MMA Lab in Arizona alongside main event fighter Benson Henderson. De La Torre did pick up a big knockout win earlier this year to get his first victory inside the Octagon, but he's got a tough test ahead of him this weekend.
Nam is very well rounded, where he lands 3.53 strikes per minute with over 55-percent accuracy and then also surprises his opponents with at least one takedown per fight as he's landing with 75-percent accuracy on his attempts. Nam suffered a close loss in his last fight to Phillipe Nover in a bout many felt he should have won, and chances are he'll take out his frustrations this weekend.
Look for Nam to put the pressure on De La Torre early and try to make the American bend to his will with a heavy barrage of strikes to hopefully put this one away before it even reaches the judges' scorecards.
Prediction: Yui Chul Nam by TKO, Round 2
Fredy Serrano (-210 favorite) vs. Yao Zhikui
Former Olympic wrestler Fredy Serrano will look for his second straight win in the Octagon when he takes on Yao Zhikui this weekend.
Serrano is a good prospect at 125 pounds out of Colombia, and while he's still very raw in his overall MMA game, he has the potential to be a fun fighter to watch over the next couple years. Serrano has meshed his MMA game together well while starting with a wrestling base, and he showed off his power in his last fight, where he floored Bentley Syler in the third round to get his first UFC win.
Zhikui has picked up a win in his UFC career as well, but both of his fights have been razor close and, statistically speaking, he's not been that impressive. He's only landing punches with just over 20-percent accuracy, and his takedowns are actually worse, with just under 17-percent accuracy.
As long as Serrano doesn't approach this fight with too much confidence, he should be able to control where it takes place with his wrestling and look for the finish with his striking. Serrano just has a slight edge everywhere in this matchup and it should result in a win.
Prediction: Fredy Serrano by TKO, Round 2
UPSET SPECIAL
Sam Sicilia (+160 underdog ) vs. Dooho Choi (-210 favorite)
This is a tough upset to pick because Dooho Choi is a knockout artist with massive power in his hands and this is a fight at home for him. Where he suffers a bit in this matchup is that he's been out for almost exactly one year dealing with injuries, and Sicilia is more than capable of matching him shot for shot on the feet.
Sicilia is a serious power puncher for the featherweight division and his recent wins have proven that he's getting smarter as a fighter as well. Sicilia had a tendency to get drawn into slugfests that worked out in his favor more often than not, but it still cost him some fights where he could have approached opponents with a bit more strategy to stay out of harm's way. Sicilia also thrives when he faces a fighter in their home country, so this is another opportunity for him to play spoiler.
Now if Sicilia gets into a firefight, all bets are off. But if he can maintain composure and allow Choi to be the aggressor, his counter shots could mean all the difference in this fight. Sicilia hits like a truck and that's only compounded if he can catch Choi rushing forward. If he stays patient and waits for Choi to come to him, it could lead to a spectacular finish.
Prediction: Sam Sicilia by TKO, Round 3