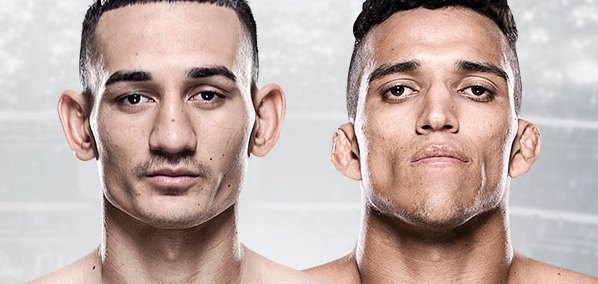 For the first time ever, the UFC lands in Saskatoon, Saskatchewan in Canada this Sunday for a packed card headlined by a featherweight bout pitting Max Holloway against Charles Oliveira.
Holloway has been tearing through the competition lately, winning six fights in a row, including a submission victory over Cub Swanson in his last fight. The Hawaii-born fighter is looking to jump into title contention with a win, but he's got a tough test to prove he belongs in that conversation.
Oliveira has been just as impressive lately, winning four fights in a row, with three of them finished by submission. The Brazilian has long been considered one of the best prospects in the UFC, but now he's starting to finally realize that potential, and a win over Holloway would certainly propel him into the top five of the division.
Also on the card, Brazilian finisher Erick Silva will look to cement another win while taking on Neil Magny in the co-main event. Silva has looked better than ever in his recent fights, and defeating Magny would put him on a three fight win streak - the longest of his UFC career.
In today's fantasy preview, we're going to examine some of these key matchups to see who might have an edge going into Sunday night's card from Canada as we prepare for UFC Fight Night: Holloway vs. Oliveira.
SPLIT DECISION
These are the fights that are just too close to call, but a few minor differences between favorite and underdog could lead one fighter to victory and the other to defeat.
Max Holloway (-220 favorite) vs. Charles Oliveira (+175 underdog)
The main event is as good as it gets when talking about the future of the featherweight division, because both Holloway and Oliveira have a ton of potential to one day enter the picture for a run at the championship.
Holloway has been on an incredible run lately that's highlighted by his nasty striking game, which he's continued to develop while climbing the ranks at 145 pounds. Holloway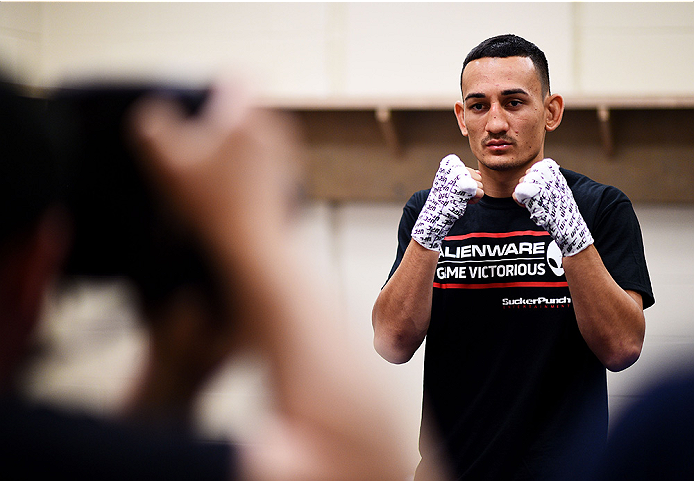 is landing 5.64 significant strikes per minute with laser-like accuracy, while making his opponents miss nearly 70-percent of the time. He's also hovering around 80-percent with his takedown defense as well, which was a liability for Holloway in previous fights.
The biggest difference with Oliveira recently has been his confidence, as he's won four fights in a row - three ending by submission - while never crumbling in the face of adversity. Oliveira has always been a thrilling fighter to watch perform, but he struggled whenever he got to the upper echelon of a division and this is his chance to show that recent improvements have gotten him over the hump. Oliveira's best weapons remain his versatile submission attacks, which can come from anywhere at anytime with great accuracy. Oliveira is no stranger to striking either, as he's actually landing with slightly better accuracy than Holloway in this matchup.
The real key to this fight is Holloway's ability to use his range while thwarting Oliveira's attempts to drag them to the ground. Oliveira won't show fear striking with Holloway, but ultimately his setups and feints are going to be used as a measuring stick to get this fight to the mat. If Oliveira can't do that early, Holloway will only gain confidence as the fight wears on, and with each passing minute, he will pick up traction to put his offense together before landing the finishing blow.
Prediction: Max Holloway by TKO, Round 4
Josh Burkman (-135 favorite) vs. Patrick Cote (+115 underdog)
Veteran welterweights Josh Burkman and Patrick Cote have mirrored each other's careers for several years and now they will finally meet in the Octagon this weekend in Canada.
Burkman is in desperate need of a win after dropping back-to-back bouts since returning to the UFC (one loss to Lombard was overturned to a no contest after Lombard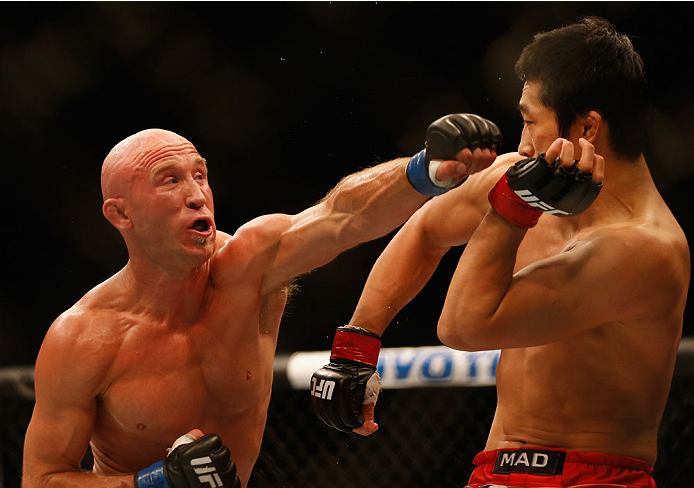 failed a post-fight drug test), while Cote seeks his second straight victory following a unanimous decision nod over Joe Riggs in his last bout.
Burkman has struggled through his first two fights when it comes to using his explosive striking to hurt or possibly finish his opponents. Burkman worked tirelessly for years to develop his boxing so he could compliment his wrestling game, but now he's gotten a little trigger shy while barely employing takedowns in his past two fights. He'll have to dust off his singlet this weekend, however, because Cote has gotten quite well-versed in the art of wrestling in recent years.
Cote still packs a serious punch, but he's started to employ a wrestling-heavy offense to put opponents on the mat and work his offense from there instead. Cote has used this to great effectiveness against fighters such as Riggs and Kyle Noke, but the question now becomes, can he do it again while facing a much stronger wrestler like Burkman?
Chances are that as long as Burkman doesn't look like he's sleepwalking through the fight like he has in his last two trips to the Octagon, he should be able to shrug off Cote's takedowns and work a better boxing game over three rounds. If Burkman gets sloppy or decides to start winging punches with Cote, all bets are off, because at that point anything can - and probably will - happen.
Prediction: Josh Burkman by unanimous decision
Maryna Moroz (-180 favorite) vs. Valerie Letourneau (+160 underdog)
Following an incredible win over Joanne Calderwood in her UFC debut, Maryna Moroz will look to make it two in a row as she faces Valerie Letourneau this weekend in Saskatoon.
Moroz was largely unproven going into her first fight, but she's well-known now and will no longer have the element of surprise on her side in this matchup. Moroz is a very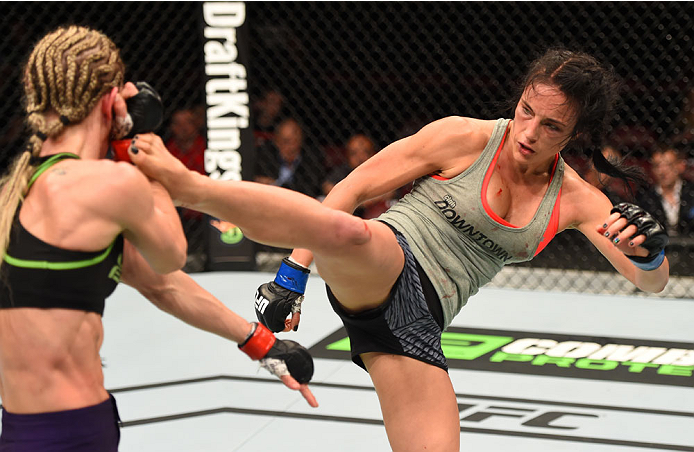 dangerous competitor, especially on the mat, where she's pulled off five armbar finishes in six fights. If not for Ronda Rousey, everyone might be calling Moroz the armbar queen.
Letourneau will be a tough challenge for Moroz because she's not only a legitimate top 15 fighter, but this Canadian has a ton of big fight experience on her side. She actually fought up in weight for most of her career, fighting names like former Strikeforce champion Sarah Kaufman as well as former title contender Alexis Davis. Letourneau took current No. 1 ranked strawweight Claudia Gadelha to a split decision and she's 2-0 thus far in her UFC career.
Letourneau also has the benefit of working with some of the best jiu-jitsu specialists in the world while training at American Top Team in Florida and chances are they've drilled armbar defense extensively going into this fight. Letourneau can be a tough out for anybody in this division with her active striking and better than average wrestling.
If she can avoid Moroz pulling off the quick submission early, look for Letourneau to turn this into a grind and see if the second-time UFC fighter is more pretender than contender. As impressive as Moroz was in her debut, she has a lot more to prove this time around when there's no chance her opponent will be underestimating her.
Prediction: Valerie Letourneau by unanimous decision
KNOCKOUT PICKS
These are the fights that appear to be a little more one-sided, but remember that this is MMA, where anything can - and usually does - happen.
Erick Silva (-170 favorite) vs. Neil Magny (+150 underdog)
It's hard to pick against Erick Silva in this co-main event matchup, considering he's been training non-stop for the last couple months to face Rick Story, while Magny accepted this fight just a couple weeks after losing to Demian Maia while also having his seven-fight win streak snapped.
Silva isn't exactly the picture of consistency, but he's got the kind of power that could give Magny nightmares on the feet after dealing with Maia's jiu-jitsu on the ground in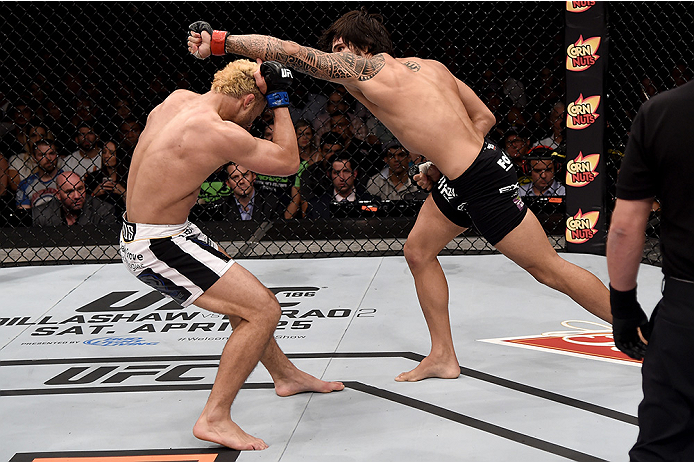 his last fight. Silva is very aggressive and he'll start headhunting as soon as the fight starts.
If Magny wants to win this one, he's going to have to stay patient and wait for Silva to finish flurrying before he finds a way to counter and either drag him to the mat or land the perfect combination to back him off. Magny would be a tough matchup for Silva on most days because of his long range and solid ground work, but it's hard to pick him this time around with no time to prepare for a power puncher like he'll face on Sunday night.
This fight will put the pressure on Silva, especially considering he's never won more than two bouts in a row in the UFC, but the cards are on his side to pressure, hurt and finish Magny before the final horn sounds.
Prediction: Erick Silva by TKO, Round 2
Chad Laprise (-330 favorite) vs. Francisco Trinaldo (+275 underdog)
Former Ultimate Fighter winner Chad Laprise will look to stay undefeated when he faces Brazilian Francisco Trinaldo, who is currently riding a three-fight win streak. Trinaldo is a veteran fighter who somehow always seems to find the ability to eke out a decision in his favor, but that might be the reason why he's sitting as one of the biggest underdogs on this card Sunday night.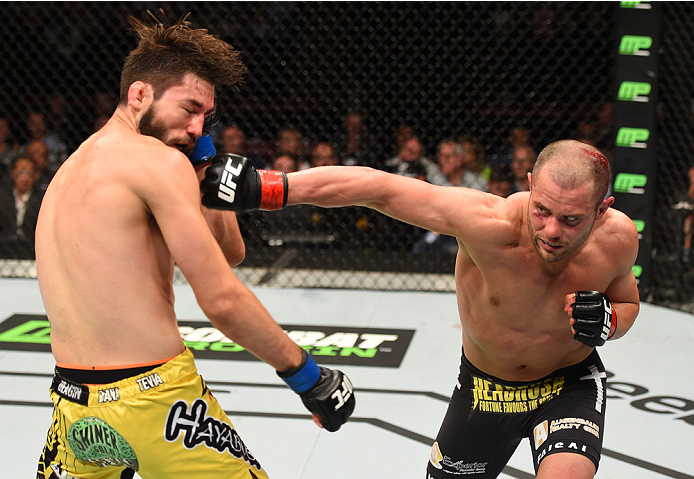 Trinaldo knows how to keep things close, but rarely does he pull away from his opponents enough to score a finish or even a dominant win. He can't play that game with a striker like Laprise, who will put together three and four-punch combinations throughout the fight while pressuring Trinaldo across the Octagon.
Laprise has only gotten better since training at the Tristar gym in Montreal alongside coach Firas Zahabi, and the sky is the limit for this young Canadian. Laprise hits hard, hits fast and doesn't get rattled against veteran competition. Laprise outlands Trinaldo by nearly two strikes per minute, with better accuracy and defense as well.
Trinaldo fights like he's stuck in quicksand sometimes, which can bring his opponents to a screeching halt as well, but Laprise won't likely allow that slow pace to keep him from putting together his combinations to seal the deal on a victory in the judges' eyes. Trinaldo's style might stop Laprise from getting a finish, but it shouldn't keep the Canadian from getting the win.
Prediction: Chad Laprise by unanimous decision.
Olivier Aubin-Mercier (-240 favorite) vs. Tony Sims (+195 underdog)
Despite losing to Laprise by split decision on The Ultimate Fighter, Olivier Aubin-Mercier might be the best young prospect out of Canada since Rory MacDonald followed in Georges St-Pierre's famous footsteps. Aubin-Mercier is a combination of relentless wrestling, good submissions and solid boxing now that he's working under coach Firas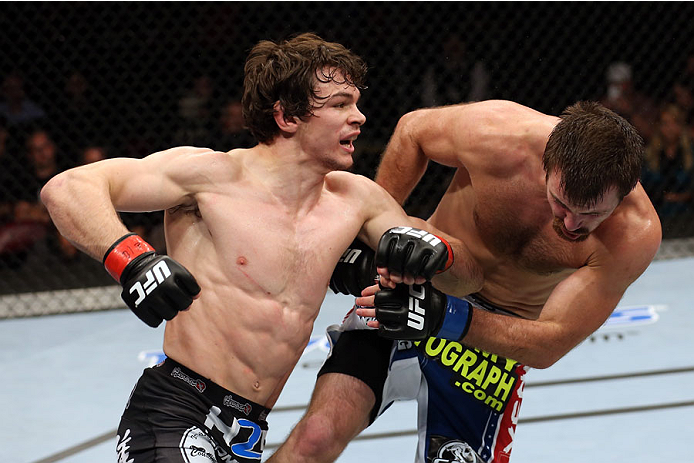 Zahabi at the Tristar gym.
Tony Sims is no pushover, and he's got the kind of one-punch finishing power that could turn Aubin-Mercier's lights out in a hurry, but he's likely going to play defense for a big part of this fight as he fends off the Canadian's takedown attempts. Aubin-Mercier averages three takedowns per 15 minutes in the cage and, considering Sims' power, he'll probably look to put this one on the mat sooner rather than later.
Aubin-Mercier is ever developing as well, so don't be surprised to see him pull out something new from his bag of tricks as he tries to advance position and go for the finish against Sims if he can trap him on the mat throughout the fight. Once Aubin-Mercier puts Sims on the deck with his first takedown to set the tone, the Canadian should be able to do it again and again until his hand is raised as the victor.
Prediction: Olivier Aubin-Mercier by unanimous decision
UPSET SPECIAL

Sam Stout (+115 underdog) vs. Frankie Perez (-135 favorite)
There were a couple potential picks for upsets on this card - Patrick Cote against Josh Burkman and Valerie Letourneau taking on Maryna Moroz - but veteran fighter Sam Stout deserves a little bit of attention as he looks to break out from his recent slump, where he's lost three of his last four fights.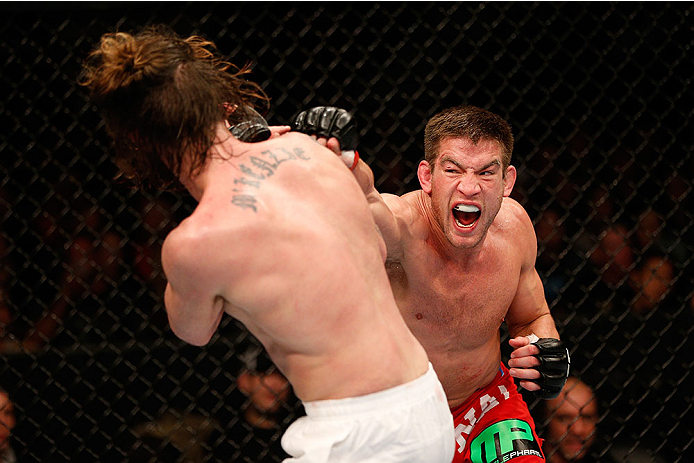 Stout isn't the same concrete-chinned knockout artist he once was, but fighting at home in Canada while trying to stave off a third loss in a row might be just the motivation he needs to take out a young gun like Perez on Sunday night. Perez is a scrappy fighter with a good team from New Jersey behind him, but he's fighting a tough veteran with a home country crowd behind him this weekend.
Assuming Stout's confidence isn't shaken by recent setbacks, he still possesses some of the nastiest power in the lightweight division and it's more likely that Perez will try to take this one to the ground rather than stand and trade with the Canadian. Perez struggled in his lone UFC fight against Johnny Case to stop his opponent's power on the feet, and that could spell disaster against someone like Stout.
Look for Stout to stuff the takedown and fire back with monstrous punches until he gets the finish or at least puts together enough offense to pull out the win.
Prediction: Sam Stout by TKO, Round 3