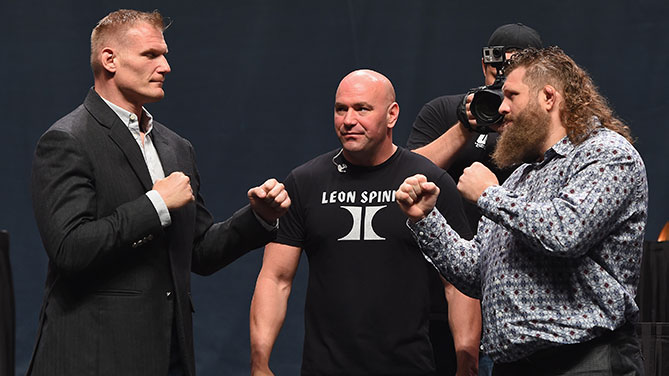 The UFC returns to the Land of the Rising Sun this weekend with a card from Japan featuring a ton of local talent, as well as a heavyweight showdown years in the making when
Josh Barnett
faces off with
Roy Nelson
in a throwback fight between two competitors who have been at the top of the game for the past decade.
Barnett was a stalwart of the Japanese fight scene during his days as part of the PRIDE roster, so he'll feel like he's going home again as he heads back to the scene of many of his biggest career victories.
Nelson will hope for a better result in his second trip to Japan after suffering a knockout loss to
Mark Hunt
in his last fight in Saitama Super Arena, and he's going to try to stop the bleeding on a recent two-fight skid.
Also in action this weekend, top 10-ranked middleweight
Gegard Mousasi
will look to tack another win on his record as he faces former
Ultimate
Fighter finalist
Uriah Hall
. Both fighters are coming off victories and this might be a chance for Hall to finally make a huge statement in the middleweight division.
As we gear up for the fights from Japan, today's fantasy preview will take a look at some of those key matchups, including a few that are just too close to call and a couple more that might just be locks ahead of
UFC Fight Night:
Barnett vs. Nelson
SPLIT DECISION
These are the fights that are going to be tougher to pick, but making the correct selection could mean the difference between winning or losing in the overall fantasy competition.
Josh Barnett (-240 favorite) vs. Roy Nelson (+190 underdog)
Josh Barnett and Roy Nelson are both looking to get back in the win column on Saturday after a couple tough losses recently. Barnett has also been out of action for over a year as he makes his return to the UFC while trying to climb back up the heavyweight rankings.
The story and strategy for Barnett in this fight should be fairly straightforward and specific - pressure Nelson with size and wrestling and either put him on the mat or make him work from the clinch against the cage. Barnett has to know that standing on the outside and winging punches with Nelson is the easiest way to leave Japan with a loss on his record and that's not his style anyway.
Barnett is one of the best combination wrestler-submission artists in all of MMA, and with over 57-percent takedown accuracy, he's got more than enough to put Nelson down and keep him there. Barnett isn't a slouch on the feet either, but to beat Nelson standing he will have to employ a dirty boxing game while grinding out the former Ultimate Fighter winner against the cage. Either situation could be successful, but Barnett surely believes his ground game is what suits him best in this fight.
As for Nelson, he's never out of a fight as long as his right hand is cocked and ready to fire like a shotgun blast at his opponent's head. Nelson has one of the deadliest punches in the entire sport with his overhand right and no matter how many times opponents see it on film, they still get caught with it in the fight. Nelson has other attributes as well, but look for him to step into his punches before uncorking that right hand while aiming for the knockout blow.
As dangerous as Nelson can be with his one-punch knockout power, he's going against a catch wrestler in Barnett who loves to pressure his opponents from the moment the referee says go. Given that tendency, Nelson might struggle to even unload a big right hand unless he can shrug off some takedown attempts and force Barnett to start shooting in on his legs from the outside. Unless that happens, look for Barnett to drag this to the mat and either force the finish with ground-and-pound or find a way to put Nelson out with a submission.
Prediction: Josh Barnett by TKO, Round 2
Kyoji Horiguchi vs. Chico Camus
Following a tough loss in his first shot at the UFC flyweight title, Kyoji Horiguchi returns to action in his native Japan to take on Chico Camus in a featured bout at 125 pounds.
Horiguchi found out the hard way just how tough it is to deal with a fighter as good as
Demetrious Johnson
, because all of the weapons he normally uses to overwhelm his opponents were turned around and used against him time and time again. Assuming Horiguchi's confidence wasn't shattered by that loss, he's still a very good flyweight fighter with solid wrestling, good submissions and a powerful ground game when he's on top.
Horiguchi had looked dominant in all his fights prior to the matchup against Johnson, but his matchup this weekend won't be a cake walk because Camus has the ability to make this a very tough fight and he's more than capable of keeping it close.
Camus is primarily known for his striking, where he's long and rangy from the outside with quick footwork and head movement. He's no slouch on the ground, however, and his ability to employ slick escapes or possibly even put Horiguchi down make him a tough fighter to figure out for 15 minutes.
If there's one knock on Camus' ability to keep the fight close, it's also the fact that he doesn't exactly blow anybody away with a one-sided performance. He tends to fight close to the same level as his opposition, which makes Camus dangerous, but he also doesn't take a ton of chances and that sometimes leads to a lackluster loss instead of a spectacular win.
In this case, with Horiguchi fighting at home with the crowd on his side, he should get the job done with a better wrestling attack and constant offense on the ground. Camus is good defensively, but stopping an opponent's attacks without a great counter will still lead to a loss.
Prediction: Kyoji Horiguchi by unanimous decision
Takeya Mizugaki vs. George Roop
Another tough fight to pick this weekend comes in the bantamweight division as Japanese favorite Takeya Mizugaki tries to bounce back from two recent losses against George Roop, who has been on an up-and-down run lately, going 1-2 in his last three fights.
There are moments when Mizugaki looks like a legitimate top 10 fighter when he's picking up wins over fighters like
Francisco Rivera
,
Erik Perez
and
Bryan Caraway
, but then his last two fights have left a lot to be desired. Mizugaki got blasted by former bantamweight champion
Dominick Cruz
before losing by submission to top-ranked prospect
Aljamain Sterling
in his last fight. Mizugaki has to shake off those losses if he wants to stave off a third defeat in a row.
Roop is a similar case, where he's used his massive 6'1" frame to beat up a number of bantamweights over the years, but his inconsistency is sometimes maddening because he has flashes of brilliance that are oftentimes overshadowed by abysmal letdowns.
This time around, it's Mizugaki's time to shine or he might be looking at three losses in a row and a potential exit from the UFC. Mizugaki won't blow anybody away with his striking or ground game, but he's technically sound enough that his attacks are tough to predict and many times hard to counter. Roop has to depend on his long reach to keep Mizugaki at the end of his strikes, but if he can't do that, he'll find himself on the ground or potentially getting outpointed by an all-around better stand-up fighter.
Prediction: Takeya Mizugaki by split decision
KNOCKOUT PICKS
These are the fights that appear to be more one-sided, but remember that this is MMA, and anything can happen at any time.
Gegard Mousasi (-450 favorite) vs. Uriah Hall (+360 underdog)
It was going to be tough to pick against Gegard Mousasi in his original matchup against
Roan Carneiro
, but it's even harder now that he gets a late replacement in Uriah Hall, who returns just weeks after his last fight at UFC Fight Night in Nashville. Hall made it through that fight with relative ease, but making the quick turnaround to compete again just over a month later isn't always the easiest task to complete, especially when facing one of the best middleweights in the world.
Mousasi has consistently been a top fighter for most of his career and he returns to Japan for the first time in over four years after making a name for himself there as part of PRIDE and other organizations. Mousasi has picked up back-to-back wins, including an emphatic finish of
Dan Henderson
, as well as a lopsided decision over
Costas Philippou
earlier this year. Mousasi is best known as a striker with good hands and deadly feet, but he's got a lot more in his arsenal than just kickboxing. Mousasi showed off some of those skills in his last fight, where he took Philippou down repeatedly and worked from the ground for a huge chunk of the 15-minute affair.
Hall is no slouch on the ground, but he's not on the same level as Mousasi, so he has to know his best shot to win is to keep this standing, where he could potentially uncork one of his signature flashy kicks to try and steal this one. Hall has all the talent in the world to make this a good fight with Mousasi, but unfortunately he's been painfully inconsistent throughout his UFC career, especially when facing the best fighters in the division. This is a huge opportunity for Hall to shine, but he's fallen short in each of his previous attempts to tackle the top 15 in the division and this might be his hardest matchup yet.
Prediction: Gegard Mousasi by unanimous decision
Nick Hein vs. Yusuke Kasuya
Newcomer Yusuke Kasuya will be fighting an uphill battle in his debut as the submission specialist takes on UFC veteran Nick Hein, who comes into the fight with a 2-1 record inside the Octagon. What makes this fight such a hard one for Kasuya to win is that his specialty is his submission game on the ground, and Hein is a notoriously tough fighter to take to the mat.
Actually, through his first three fights in the UFC, Hein has displayed perfect takedown defense and that doesn't bode well for Kasuya finding a way to drag him to the ground. On the feet, Hein is productive enough, averaging just under three significant strikes landed per minute while showcasing nearly 68-percent defense on the feet.
The real key to Hein's victory in this one really relates to his ability to shut down any takedown attempts by Kasuya, who will also feel the spotlight of the UFC for the first time while facing a very tough opponent. Kasuya might still prove to be a solid prospect, but he probably won't get to show that much while facing a fighter as tough and gritty as Hein in his debut.
Prediction: Nick Hein by unanimous decision
UPSET SPECIAL
Diego Brandao over Katsunori Kikuno
This featherweight matchup between Diego Brandao and Katsunori Kikuno is a tough one to pick, but the odds seem to favor the Japanese veteran, who has a ton of experience and will fight close to home for his third fight in the 145-pound weight class. Kikuno is a blitzing mix of submissions and powerful striking and he's hard to counter at times with his overwhelming pressure from inside and out.
Brandao is a bit of an anomaly because there are flashes of brilliance hidden in a sea of inconsistent performances. On his best days, Brandao is a nightmare to deal with on the feet and on the ground because he mixes a hard-hitting striking game with a powerfully deceptive Brazilian Jiu-Jitsu attack. Brandao's biggest problems have stemmed from getting over emotional in some performances, such as in his fights with
Conor McGregor
and
Dustin Poirier
, but when he stays poised and focused, he's more than capable of going with anybody in the top 15 in the featherweight division.
Chances are that Kikuno and Brandao should be completely respectful towards one another and that kind of emotional void should be a huge help to the Brazilian. Look for Brandao to come out aggressively, putting Kikuno on the defensive immediately. Brandao has to be wary of engaging too much with Kikuno on the ground, because the local favorite can absolutely tie him up in knots, but if the former Ultimate Fighter winner is smart, he'll hit and move until he either gets the finish or the Japanese veteran just has no answer for him late.
Prediction: Diego Brandao by TKO, Round 3