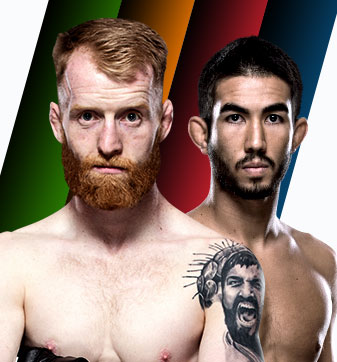 The UFC returns to Ireland this weekend, and while an injury to Joe Duffy shook up his main event bout against Dustin Poirier, there will be plenty of intriguing UFC action for the Emerald Isle, with home country favorite Paddy Holohan facing Louis Smolka in a flyweight main event, while former Ultimate Fighter winner Norman Parke will face off with returning lightweight Reza Madadi.
As we gear up for another card in Ireland, today's fantasy preview will examine some of the key matchups, and considering that this show is decorated by a slew of fights with insanely close odds, it's going to be tougher than ever to pick the winners and losers from UFC Fight Night: Holohan vs. Smolka.
SPLIT DECISION
These are the fights that are just too close to call, but a few minor differences between favorite and underdog could lead one fighter to victory and the other to defeat.
Louis Smolka (-115 favorite) vs. Paddy Holohan (-105 underdog)
The new main event is tough to pick, with Louis Smolka coming in as a slight favorite over another Irish competitor in Paddy Holohan.
Smolka will enjoy his biggest advantage on the feet, where he outstrikes Holohan by nearly two significant strikes per minute, with similar averages in both accuracy and defense. Smolka is long and rangy, which will help him against Holohan, who is one of the taller fighters in the division.
Holohan isn't bad on the feet, but he has to know that his best chance to win this fight is to drag it to the ground, where he can start to apply pressure with his deadly submission game. Holohan is landing 50-percent of his takedown attempts thus far in the UFC, which gives him a huge advantage if he can put Smolka on his back right away and take away his kicks, which are deadly. Smolka's takedown defense has also been rather abysmal, as he blocks just over 27-percent of his opponent's attempts, and there's little doubt Holohan has paid attention to that statistic as he gets ready for the fight.
Fighting close to home will be a big deal for Holohan, who fed off the energy of the crowd in his UFC debut and this could be a second time around for him as he looks to pick up his most significant win since joining the promotion last year. Smolka won't make it easy on him, especially if he keeps this fight standing, but Holohan's takedowns, submission attempts and ground control should be enough to get the job done.
Prediction: Paddy Holohan by split decision
Nicolas Dalby (-140 favorite) vs. Darren Till (+120 underdog)
Another fun fight on the main card this weekend pits two undefeated prospects against each other as Nicolas Dalby takes on England's own Darren Till.
Dalby is a tough as nails fighter with a good ground game, who currently averages six takedowns per fight (granted, he only has one fight in the UFC) with a 60-percent success rate thus far. Dalby has gone to a decision as many times as he's finished fights in the past, but he's also fought slightly better competition than his opponent, even though this will be the second fight for each of them in the UFC.
Till is an exciting, explosive fighter who burst on the scene in his debut with a huge knockout thanks to some very nasty elbow strikes. At just 22 years of age, Till is a great prospect coming out of Brazil by way of England, and while his kickboxing is dangerous, he won't get to use much of it if he's spending the entire fight on his back. Till has a tendency to get involved in slugfests, which are exciting, but tend to leave him in bad situations if he allows Dalby to dip down and take him to the ground if he's over aggressive.
The key for Till to win is to shut down Dalby's wrestling early and then unleash his punches and elbows in close any time the Danish fighter attempts a takedown. Till needs to make Dalby work for each and every takedown he attempts and if he can hurt him repeatedly when he's coming in to clinch or wrestle, it will make him less apt to try again. If this stays strictly standing, Till has better power and combinations, even if he trades strikes with his opponent in a brawl.
Prediction: Darren Till by TKO, Round 3
KNOCKOUT PICKS
These are the fights that appear to be a little more one-sided, but remember that this is MMA, where anything can - and usually does - happen.
Stevie Ray (-500 favorite) vs. Mickael Lebout (+400 underdog)
Following Conor McGregor's exit to the UFC, Stevie Ray was the fighter who picked up where he left off by winning the Cage Warriors lightweight title, and he's looked every bit as impressive through his first two fights in the Octagon as well. Mickael Lebout is a promising prospect out of France, but he's stepping into enemy territory against arguably one of Europe's best fighters, who is looking to tackle the top 15 in the lightweight division.
Ray is an incredibly effective striker, landing over 5.5 significant strikes per minute with a whopping 60-percent accuracy. While his stand-up defense leaves something to be desired, he's stuffed all of the takedowns attempted against him thus far, and chances are Lebout won't be able to get him to the ground either.
Look for Ray to land two or three punches for every one landed by Lebout, and over time those numbers will just begin to punish the Frenchman, who likely won't be able to keep up by the time the late second or early third round comes around. Ray is a good name for fans to watch over the next year, and while he may not be the next McGregor, he's a very solid prospect for the European market, with a ton of potential to grow into a legit threat to the fighters ranked in the lightweight division.
Prediction: Stevie Ray by TKO, Round 3
Aisling Daly (-130 favorite) vs. Ericka Almeida (+110 underdog)
The strawweight matchup between Aisling Daly and Ericka Almeida is much closer than a sure thing, but there are a few advantages for the Irish Ultimate Fighter veteran, who looks to win on her home soil for the first time since 2013.
Daly has a wealth of experience under her belt and she's also a massive fighter for the 115-pound division. Now that's hurt her in the past due to brutal weight cuts, but because she's fighting at home in Ireland and will be able to control her diet while not worrying about travel, it should benefit Daly in the days leading up to the contest. Daly is extremely well rounded, with a better than average striking game, as well as good ground control and submissions. Daly has been nothing short of ecstatic for the chance to fight at home in the UFC, since she missed the last show entirely while filming The Ultimate Fighter in Las Vegas.
Almeida's best chance to win this fight is to catch Daly in a scramble on the mat and lock on a submission. She's very good on top or bottom with her Brazilian Jiu-Jitsu, but struggled when she got locked under Juliana Lima in her debut fight in the UFC. Now Lima is a tough matchup for anyone at 115 pounds, but Almeida stepping into her opponent's backyard, where Daly will feel more comfortable and at ease, is a tough battle to overcome.
Don't be shocked if Almeida finds an opening and gets a submission, but chances are that Daly's combination of clinch fighting, ground control and better striking should get the job done to get another win for Ireland on this card.
Prediction: Aisling Daly by unanimous decision
Neil Seery (-155 favorite) vs. Jon Delos Reyes (+135 underdog)
Neil Seery will look to bounce back from a loss in his last fight as he takes on Guam native Jon Delos Reyes in a flyweight matchup from Ireland.
Seery has suffered a few ups and downs since joining the UFC while sporting a 2-2 record overall, but he's also faced some tough opponents in that stretch. His two losses to Brad Pickett and Louis Smolka represent some serious veteran talent, while he's managed to defeat explosive striker Chris Beal, as well as Phil Harris in his last fight in Ireland.
Seery is a very good boxer with heavy hands and an incredible chin. He'll likely use both to keep Reyes on the defensive throughout the fight. Reyes is much more likely to try and drag this one to the ground, where he's got a good jiu-jitsu arsenal, but Seery doesn't throw many kicks, so his takedown defense should be on point.
Look for Seery to open up with his hands and, as the fight wears on, he'll try to punish Reyes with each and every combination he puts together. While it will be tough to put Reyes away, Seery has more than enough gas in his tank to beat up the visiting fighter for three rounds to cruise to a decision victory.
Prediction: Neil Seery by unanimous decision
UPSET SPECIAL
Reza Madadi (+230 underdog) vs. Norman Parke (-280 favorite)
There's a lot going against Reza Madadi as he steps into face Norman Parke this weekend in Ireland.
He's been away for more than two years dealing with legal issues and, at 37 years old, Madadi certainly isn't getting younger anytime soon. He's also fighting Parke, who is close to home, and it's a lot of pressure to come back to this kind of card after being off for so long.
All that aside, Madadi was one of the toughest outs when he was in the UFC previously, and while his record reads 2-1 in the promotion, it should probably say 3-0 considering his "loss" to Cristiano Marcello was controversial, to say the least. Before he was in the UFC, Madadi was taking out veterans like former WEC title challenger Carlo Prater and Rich Clementi. He also submitted top 10-ranked lightweight Michael Johnson in his last fight before exiting the sport for the past two years.
Parke won't just roll over for Madadi by any means, and this former Ultimate Fighter winner could give him a lot of problems with his heavy-handed boxing style, fast hands and better than average defense. The problem with Parke lately is his tendency to engage in very close fights and not closing out his opponents when he has openings. It's cost him two recent split decision losses, as well as a draw three fights ago, and he could be staring at another tough defeat this weekend.
The real gamble is Madadi coming back and looking as good as he did when he left, while also hoping that two years' worth of ring rust doesn't make him sloppy and uneven in his first fight returning to the UFC. If Madadi comes back and fights with the same heart and spirit as he did in his last bout with Johnson, this could be quite the UFC homecoming for the veteran lightweight.
Prediction: Reza Madadi by unanimous decision