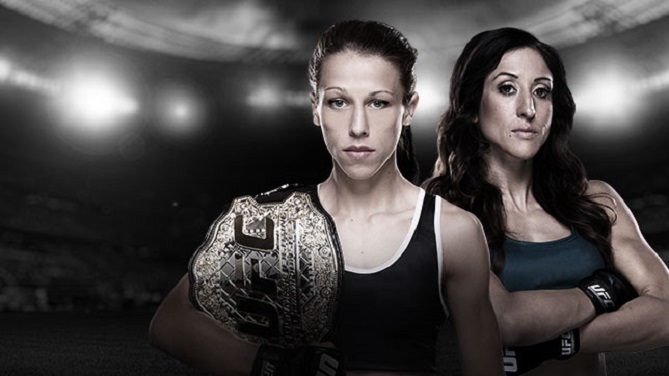 For the first time ever on UFC FIGHT PASS, a title will be up for grabs, as women's strawweight champion
Joanna Jedrzejczyk
defends her crown against
Ultimate
Fighter semifinalist
Jessica Penne
in Berlin, Germany this Saturday.
Jedrzejczyk has been nothing short of impressive in all of her fights thus far in the UFC, but she took things to another level in March when she captured the title by stopping
Carla Esparza
in the second round.
For her first title defense this weekend, Jedrzejczyk will have a tough test as she takes on former Invicta FC champion Jessica Penne, who looks to build upon her last win over
Randa Markos
while trying to claim her first taste of UFC gold.
Also on the card, German favorite
Dennis Siver
will get back in action against veteran Japanese fighter
Tatsuya Kawajiri
. Both fighters are coming off losses, so a win on Saturday is crucial for both if they plan to tackle the top 10 at featherweight anytime soon.
In today's fantasy preview we're going to examine this weekend's fight card from Germany to see which matchups are going to be tough to pick, those that look like a slam dunk and maybe there's even an upset brewing on this 11-fight UFC FIGHT PASS card.
SPLIT DECISION
These are the fights that are just too close to call, but a few key factors could separate winners from losers in these matchups.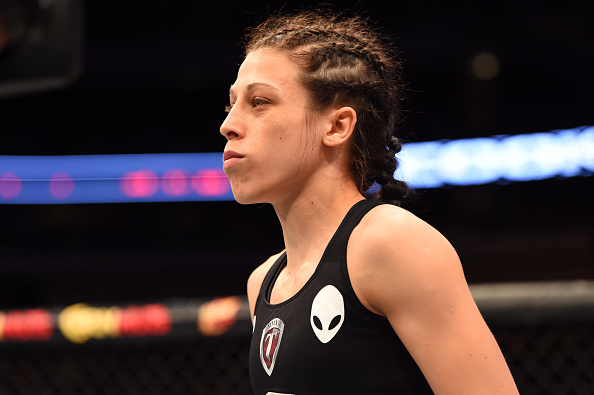 Joanna Jedrzejczyk (-700 favorite) vs. Jessica Penne (+500 underdog)
The odds certainly don't tell the whole story in the title fight main event, although Joanna Jedrzejczyk has earned her reputation as one of the most feared fighters at 115 pounds. Jedrzejczyk has displayed phenomenal striking through her first few bouts with the UFC while taking on three separate grapplers since joining the promotion last year. The Polish strawweight lands over three significant strikes per minute while showcasing incredible 71-percent defense on the feet.
Where Jedrzejczyk really shines, however, is with the 81-percent takedown defense that has come in very handy while facing a trio of grapplers in the UFC. Esparza is likely the best wrestler of the bunch and she got shut down numerous times during her attempts to take Jedrzejczyk to the mat.

Penne will do everything in her power to get the fight to the ground, where she can show off her versatile submission arsenal. Penne is a black belt in Brazilian Jiu-Jitsu and she's a very aggressive submission specialist, whether she's on top or the bottom when the fight hits the mat. Penne is very long for the strawweight division, so she's able to wrap up triangle chokes with lightning quick precision, and if she takes Jedrzejczyk's back, she's going to be tough to shake loose. Penne is no slouch on her feet either, especially when she employs a strong Muay Thai attack with vicious knees and elbows.

Penne won't be a pushover in this fight by any means, but it's hard to go against Jedrzejczyk with the run she's on lately. She showed the kind of championship confidence necessary to win the title back in March and now Jedrzejczyk gets to fight close to home, which is always a benefit for a fighter who usually travels thousands of miles to compete. Penne won't go away easy, but Jedrzejczyk's ability to stop the takedown and counter with strikes on the feet should give her enough rounds to walk out of Germany with the title intact.

Prediction: Joanna Jedrzejczyk by unanimous decision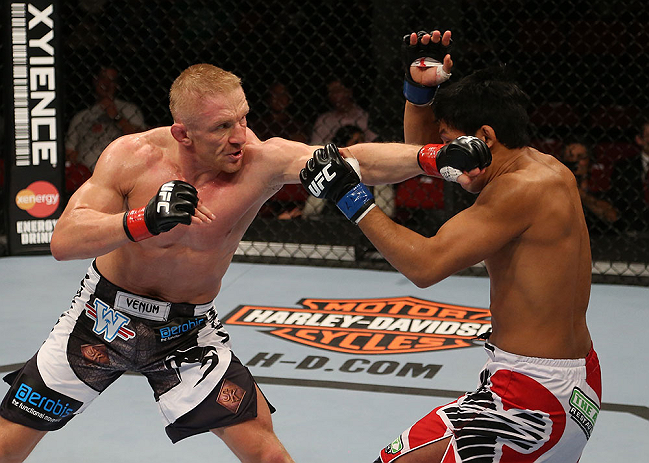 Dennis Siver (-170 favorite) vs. Tatsuya Kawajiri (+150 underdog)
Dennis Siver will have the hometown crowd on his side this weekend as he fights in Germany against a true legend of the Japanese MMA scene, Tatusya Kawajiri. While this fight could end up anywhere, the real essence of this matchup comes down to the classic battle of striker versus grappler.
Siver is no stranger to the ground game and actually has a pretty solid wrestling acumen, but this weekend he'll likely be gunning for the knockout while knowing Kawajiri will want this fight on the mat. Kawajiri is a hard-nosed wrestler who lands takedowns with over 54-percent accuracy. Kawajiri is a bear on top as well, as he muscles fighters around the cage and usually mauls them whenever he gets even the slightest opening.

Where Kawajiri might struggle this weekend is keeping Siver down, if he can get him down at all. Siver has shown solid takedown defense throughout his UFC career, and his ability to mix things up and possibly flip the script and put Kawajiri on his back gives him a strategic advantage. Add to that the fact that Siver lands nearly four strikes per minute and has a dangerous arsenal of punches and spinning kicks that will keep Kawajiri guessing for all three rounds.

If Kawajiri can take Siver down early and press him against the cage, he could negate the German's kicking game out of fear that he'll end up on the ground over and over again. Siver just needs to establish his takedown defense early and then let his hands go and he should be able to rack up a much larger volume of strikes by the time the final horn sounds to get a victory in his native Germany.

Prediction: Dennis Siver by unanimous decision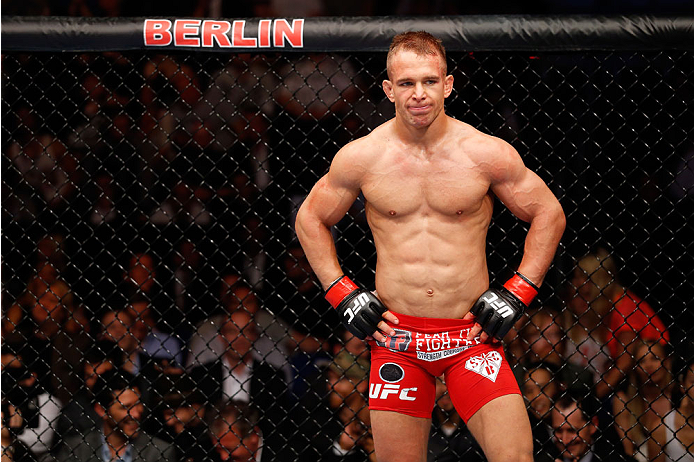 Nick Hein (-160 underdog) vs. Lukasz Sajewski (+140 underdog)
Nick Hein is another local favorite fighting this weekend against UFC newcomer Lukasz Sajewski, who actually signed with the promotion last year around the same time as strawweight champion Joanna Jedrzejczyk but hasn't debuted until now.
Hein, much like his countryman Dennis Siver, is a human sparkplug who's built like a fire hydrant and hits like a fire truck. Hein does a good job of outstriking his opponents with quick combinations on the feet, which he then counters with great takedown defense to keep his fights standing. Actually, Hein still hasn't been taken down during his UFC career and that's exactly where Sajewski will try to take him in this fight.
Sajewski is a solid prospect with an undefeated record coming out of Poland. He's fought a good list of opponents to earn his way to the UFC. with a strong boxing attack that he mixes in with a good ground game. Sajewski is very heavy on top when he gets an opponent to the ground and he's ultra aggressive when looking for submissions. He's not the most technical wrestler, often looking to out muscle his opponents rather than out technique them.
It's there that Sajewski might struggle in this fight because Hein is a powerful fighter for 155 pounds and he's not going to just roll over and give up the takedowns. He has to be careful of Sajewski's boxing, because the newcomer is no novice when it comes to throwing hands. Hein will have the advantage of Octagon experience on his side, not to mention Sajewski hasn't fought in over a year. While Sajewski should end up as a solid prospect to watch in the next year, he's getting a tough test for his debut fight after being out for the past year. Look for Hein to measure Sajewski up through the first round and then begin to pick him apart as the fight moves forward until he's secured the victory.
Prediction: Nick Hein by unanimous decision
KNOCKOUT PICKS
These are the fights that appear more one-sided than the other matchups on the card, but this is MMA and anything can - and usually - does happen.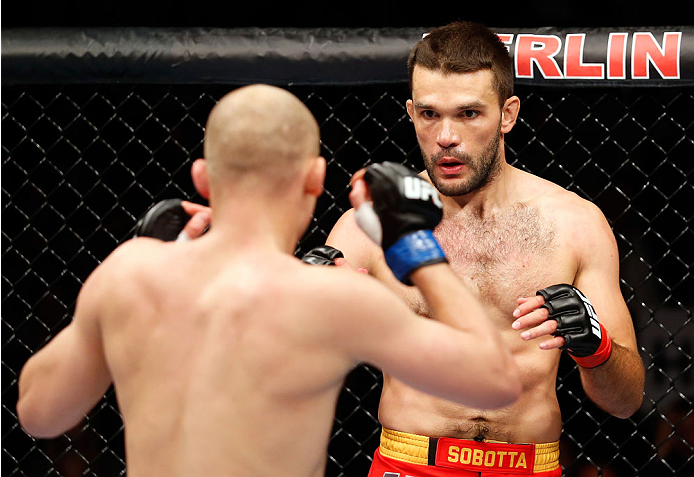 Peter Sobotta vs. Steven Kennedy
Peter Sobotta returns to action this weekend against promotional newcomer Steven Kennedy, looking to pick up his second straight win since returning to the UFC. Sobotta is a well rounded fighter with a tendency to look for submissions whenever he hits the ground, but his biggest advantage going into this bout with Kennedy could be timing.
Kennedy is a late replacement after Sobotta's original opponent dropped out, and while he's got plenty of experience with more than 25 professional fights, it's still a tough moment to step in on short notice and debut against a fighter competing very close to home. Kennedy fights out of Australia and he's faced a solid list of talent over the years, but he's struggled against the better fighters on his resume, and that's where Sobotta should be able to take advantage.
Look for Sobotta to try and overwhelm Kennedy early and take this fight to the mat, where he'll have a decided advantage. Having trained under former UFC fighter
Dean Lister
gives Sobotta a world-class jiu-jitsu arsenal, and his control and aggressiveness should put him in a position to either wrap up a submission or dominate the fight on the ground.
Prediction: Peter Sobotta by submission, Round 2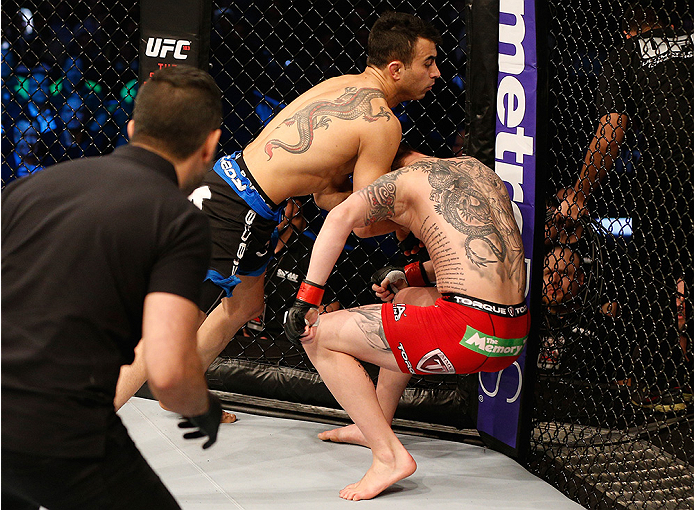 Makwan Amirkhani vs. Masio Fullen
It's going to be hard for Makwan Amirkhani to top his first UFC fight, where he finished
Andy Ogle
in eight seconds, but he should be able to get the job done for a second victory as he faces former Ultimate Fighter Latin America competitor Masio Fullen.
Amirkhani is an explosive striker with a versatile kickboxing game highlighted by his fast hands and creativity in the cage. Amirkhani is also a solid ground fighter when he chooses to go to the ground, although chances are he'll look for the knockout in this fight. Fullen has good experience from fighting on the reality show as well as in his lone UFC win. Plus, Fullen has been training full-time in San Diego at Alliance MMA, alongside UFC stalwarts like
Myles Jury
,
Johnny Case
and
Jeremy Stephens
to get ready for this fight.
Still, it's going to be a tough road to travel with Amirkhani coming into the fight with a ton of confidence following his debut and all the skills to back it up in the Octagon. Amirkhani will eventually run into a more experienced and dangerous opponent to test his skills, but he should wrap up another impressive victory this weekend.
Prediction: Makwan Amirkhani by knockout, Round 2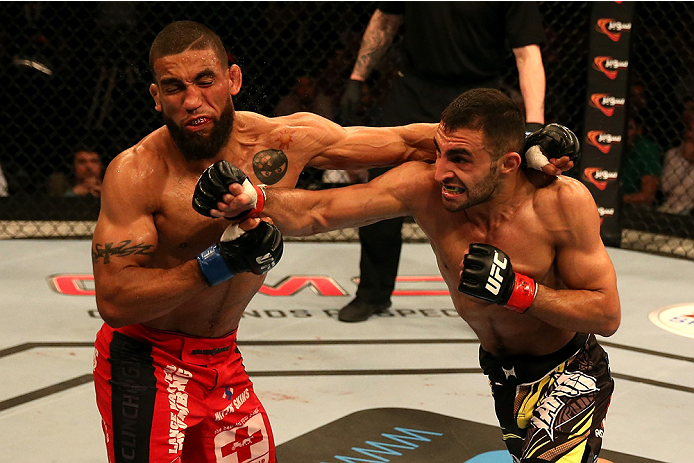 Alan Omer vs. Arnold Allen
This is a fight that could turn out closer than expected, but based on the fact that Arnold Allen is stepping in to face Alan Omer on just a few days' notice, the odds are not in his favor.
Arnold is a prospect out of England, where he's amassed a solid 9-1 record, but he hasn't faced a serious contender yet, and now he's stepping into the spotlight for his UFC debut. Omer is making his second appearance in the UFC after losing a close split decision in his debut to
Jim Alers
.
Omer is a nasty submission specialist with an 89-percent finishing rate throughout his career. In his lone UFC fight, Omer averaged nearly four strikes landed per minute with 57-percent accuracy, so he's not afraid to throw his hands either. Omer has also had a chance to work through his debut Octagon jitters as he competes for the second time this weekend while looking for his first win.
Omer should be able to control the pace in this fight with his fast offensive output, and if he can eventually put Arnold on the ground, look for him to start fishing for submissions immediately and often.
Prediction: Alan Omer by submission, Round 3
UPSET SPECIAL
If you're looking for a fighter to watch on this card during his debut it's Russian newcomer Magomed Mustafaev, who faces UFC veteran Piotr Hallmann this weekend.
While Hallmann is a tough test for anyone making their debut, Mustafaev has the potential to be a force in the future at 155 pounds. Mustafaev is still a raw fighter trying to perfect his skills inside the cage, but when this young man puts it all together, he's going to be a tough out for anyone in the lightweight division.
Mustafaev comes from a Combat Sambo background with good wrestling and submissions while also throwing a lead pipe for his punches. Mustafaev has also uprooted from his home in Russia and started working with American Top Team in Florida, which is only going to add on to his overall MMA game.
Hallmann has faced a much tougher slate of opponents in his career, so he can certainly rely on veteran experience, but Mustafaev is a rookie to watch in 2015 and this should be a great coming out party for him. He currently boasts a 100-percent finishing rate and if he can get the job done against Hallmann that would be a huge statement to start his UFC career. Chances are, however, Hallmann will stick around until the final bell but the end result should still see Mustafaev get a win in his UFC debut.
Prediction: Magomed Mustafaev by unanimous decision