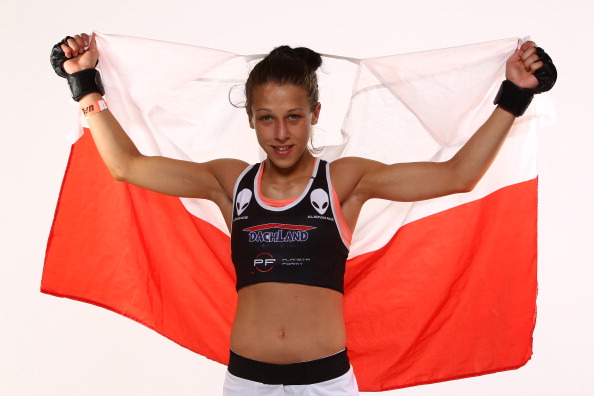 Several titles have changed hands in the UFC universe in recent months, but perhaps the most intriguing of a group that includes Fabricio Werdum, Daniel Cormier and Rafael dos Anjos is Poland's Joanna Jedrzejczyk. Soft-spoken and with a perpetual smile outside the Octagon, "Joanna Champion" turns ferocious once the bell rings on fight night, and it's Jekyll and Hyde personality that has captured the imagination of fans not just in Europe, but around the world.
This Saturday in Berlin, Jedrzejczyk defends her UFC strawweight title for the first time against Jessica Penne, making it the perfect time to look at her Fab Five performances.
Julia Berezekova
Result – Jedrzejczyk W2
As a multiple-time champion in Muay Thai, Jedrzejczyk's reputation was well established in that world. MMA was going to be another hill to climb, and despite winning her first three bouts, her stiffest test was going to be against top Russian competitor Julia Berezekova. An owner of wins over Megumi Yabushita and Milana Dudieva who also fought Tara LaRosa, Julie Kedzie and Rosi Sexton, Berezekova was the real deal, but over the course of their bout, Jedrzejczyk kept the fight standing and the combinations flowing, leading her to his biggest win to that point.
Rosi Sexton
Result – Jedrzejczyk KO2
If anyone saw Rosi Sexton's last UFC fight against Jessica Andrade in October of 2013, her induction to the Hall of Toughness was cemented that night. But when the female fighting pioneer faced off with Jedrzejczyk eight months later in the Cage Warriors promotion in London, the difference in striking accuracy and power was frightening, and after scoring a couple knockdowns in the first round, Jedrzejczyk finished Sexton in the second. It was no surprise that a call from the UFC came next.
Juliana Lima (Watch on UFC FIGHT PASS)
Result – Jedrzejczyk W3
Signed to the UFC shortly after the Sexton fight, Jedrzejczyk was back in action just a month and a half later to take on Brazil's Juliana Lima. It was a competitive fight, with Lima looking to grapple and Jedrzejczyk looking to strike, and whenever the Poland native had some room to let her hands down, she did, thrilling fans in San Jose en route to a three-round unanimous decision win. First-time Octagon jitters? Not from everyone's new favorite fighter.
"I'm never nervous," Jedrzeczyk said. "I love the adrenaline before the fight and it always makes me stronger. I just love to train hard and fight."
Claudia Gadelha (Watch on UFC FIGHT PASS)
Result – Jedrzejczyk W3
The night after The Ultimate Fighter 20 crowned the UFC's first strawweight champion, the heir apparent, Brazil's Claudia Gadelha, squared off with Jedrzejczyk in a title elimination bout in Phoenix. This one was clearly cut down the middle. When Gadelha was able to grapple, she held the edge; when Jedrzejczyk got to let her hands go, she owned the action. Not surprisingly, when the judges rendered their verdict, it was a split decision, but it was Jedrzejczyk emerging victorious and earning the first shot at Carla Esparza's world title.
Carla Esparza (Watch on UFC FIGHT PASS)
Result – Jedrzejczyk TKO2
This one wasn't even close. Expected to be a back-and-forth fight in which Esparza's standout wrestling game tried to nullify Jedrzejczyk's stand-up, it was instead a showcase for the European's ferocious and aggressive attack. By the end of the first round, the result was no longer in doubt, and in the second, Jedrzejczyk was a world champion, as she stopped Esparza at the 4:17 mark. Joanna Champion had arrived.