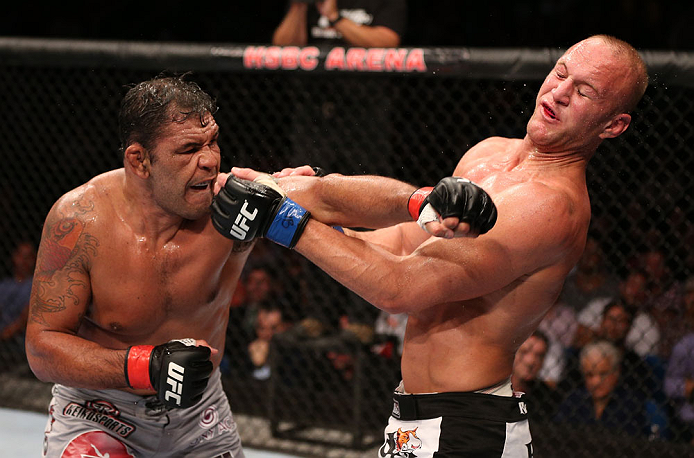 Legendary former UFC and PRIDE heavyweight champion Antonio Rodrigo "Minotauro" Nogueira announced his retirement Tuesday at the age of 39, taking a job with UFC Brazil as an Athlete Relations Ambassador. To celebrate his career, here are several of his most memorable moments...
Heath Herring I – November 3, 2001 – PRIDE 17
Result – Nogueira W3
'Big Nog' says goodbye to the Octagon: Nogueira ready to mentor future of sport | Minotauro to stay involved with UFC | A look at the Nogueira legacy
With Nogueira 13-1-1 as a pro, his reputation was growing after PRIDE wins over Gary Goodridge and Mark Coleman. But it wasn't until his three round win over Heath Herring that the entire fight world got tuned in to what Nogueira was all about. Fighting in PRIDE's first heavyweight championship bout, Nogueira showed that he wasn't just a jiu-jitsu player as he rocked Herring standing and freely exchanged with him throughout the bout. But what got Nogueira the win was his spectacular ground work, which kept Herring guessing throughout the three rounder that former UFC heavyweight champ and color commentator Bas Rutten called "The best heavyweight fight I've ever seen and the most technical."
Watch on UFC Fight Pass
Enson Inoue – February 24, 2002 – PRIDE 19
Result – Nogueira Wsub1
Three months after winning the title, Nogueira was brought back with what most considered was a gimme defense against the game but outgunned Enson Inoue. And if you look at the final result, you would say that everything went according to plan. But what made this fight special was Nogueira's rapid fire submission attack that left Inoue helpless and eventually put him to sleep. From a kimura and guillotine to a shoulder lock and the finishing triangle choke, this was a master submission class from a master of the game.
Watch on UFC Fight Pass
Bob Sapp – August 28, 2002 – PRIDE Shockwave
Result – Nogueira Wsub2
Bob Sapp would never be seen as a technical wizard, but at 6-5, 350 pounds, he certainly was a powerful handful for anyone he stepped into the ring with. That was the case when he took on Nogueira, picked him up moments into the bout and sent him to the canvas repeatedly with piledrivers. Some feared for Nogueira's safety, but as "Minotauro" told me later, he was just biding his time, waiting for Sapp to get tired. By round two, the big man was exhausted and Nogueira put him away with an armbar, and it was here where the legend began.
Watch on UFC Fight Pass


Fedor Emelianenko I – March 16, 2003 – PRIDE 25
Result – Emelianenko W3
From 2000 to 2003, a span of 14 fights, Nogueira was unbeaten and considered to be one of the best heavyweights in the game. But no one stays on top forever, and after an exhaustive 2002 that saw him fight five times, he met his match in Russia's Fedor Emelianenko. Yet despite a broken nose suffered early in the bout, Nogueira wouldn't be put away by Emelianenko's ground and pound attack, as he went on to lose a three round decision.
Watch on UFC Fight Pass
Mirko Cro Cop – November 9, 2003 – PRIDE Final Conflict 2003
Result – Nogueira Wsub2
After a controversial win over former UFC heavyweight champ Ricco Rodriguez, Nogueira was tabbed to take on feared Croatian striker Mirko Cro Cop for the interim PRIDE belt, which was in limbo due to an Emelianenko injury. And throughout the first round, Nogueira was on the receiving end of everything Cro Cop threw at him. An ugly defeat seemed to be in the cards for the Brazilian, but like a character in a monster movie, he just wouldn't go away, and in the second round he was able to get Cro Cop to the mat. Moments later, he armbarred his opponent and wore the PRIDE championship belt once again.
Watch on UFC Fight Pass
Tim Sylvia – February 2, 2008 – UFC 81
Result – Nogueira Wsub3
In July of 2007, the PRIDE star began his quest for a UFC heavyweight title with a tougher than expected decision win over old rival Heath Herring at UFC 73, and things got even rougher in his battle against Tim Sylvia for the interim crown. But after taking a two round thrashing, Nogueira came back and finished "The Maine-iac" via guillotine choke in the third frame. As "Minotauro" explained afterward, "I played his game for almost three rounds. He played my game for two minutes and I won the fight."
Watch on UFC Fight Pass
Randy Couture – August 29, 2009 – UFC 102
Result – Nogueira W3
Following the win over Sylvia, Nogueira got introduced to a whole new fanbase thanks to his stint as a coach on The Ultimate Fighter's eighth season. That was the good news. The bad was his second round TKO loss to opposing coach Frank Mir at UFC 92 in December of 2008. It was the first time he had been knocked out, and many believed that the years of wars had finally caught up to him. But when he stepped into the Octagon against fellow legend Randy Couture at UFC 102 in 2009, it was like time stood still as the two went at it tooth and nail for three classic rounds. When it was over, Nogueira had one of his biggest career wins, and the fans got a fight they would never forget.
Watch on UFC Fight Pass
Dave Herman – October 13, 2012 – UFC 153
Result – Nogueira Wsub2
Following the emotional high of the Couture fight, Nogueira had a rough couple years due to injuries and losses to Cain Velasquez (in 2010) and Mir (in their 2011 rematch). Sandwiched around those defeats was a Knockout of the Night win over Brendan Schaub in August of 2011 that marked Nogueira's first ever fight in his native Brazil. That was the high point. The rest? Injuries, injuries, and more injuries. But at UFC 153 in 2012, Nogueira finally entered a fight feeling confident about the physical shape he was in, and after up and comer Dave Herman had some choice words about the art of jiu-jitsu, "Minotauro" had all the motivation he needed. At 4:31 of the second round, he finished Herman with an armbar, his first sub victory since 2008.
Watch on UFC Fight Pass