When Jon Jones is stepping into the Octagon for the first time in over a year, entering without championship gold over his shoulder for the first time in five years, it only makes sense the returning pound-for-pound king garners the lion's share of the attention heading into the event.

The intense focus on the former light heavyweight champion in advance of next Saturday's Pay-Per-View event was obvious on Friday's UFC 197 media conference call, where Jones fielded most of the questions while several of the others posed to the remaining three competitors on the line were tethered to "Bones" in one way or another.

Flyweight champ Demetrious Johnson and challenger Henry Cejudo, who will battle it out in the Octagon before Jones squares off with Ovince Saint Preux in a clash for the interim UFC light heavyweight title in the show's finale, were asked point blank if they feel overshadowed or overlooked heading into next weekend's event.

"Not at all; I don't feel that way at all," said Johnson, who pointed out that nothing has really changed for he and Cejudo, as they remain in the penultimate position on the fight card behind a main event garnering a great deal of attention. "Whether people are overlooking us or they're caught up with Jon and OSP, it didn't change nothing for me.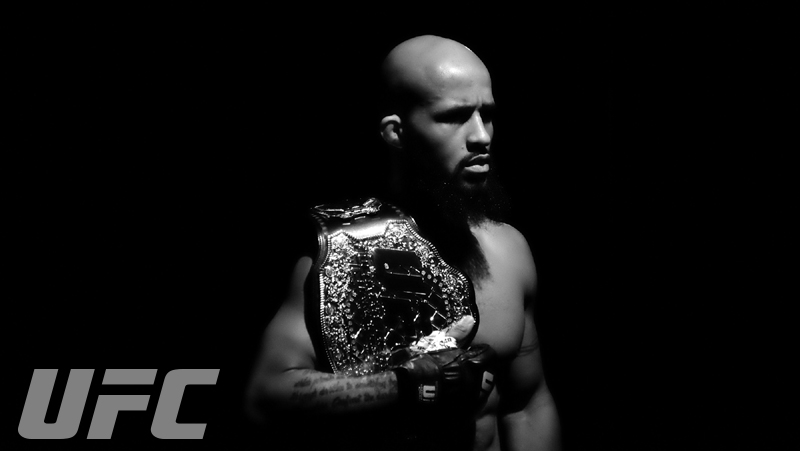 "I would have loved to have been with my former teammate," Cejudo, who wrestled on the 2008 Olympic team alongside Daniel Cormier, said. "I was looking forward to that, but I think Jon Jones, his name alone brings a lot of eyes. Obviously, he's been gone for over a year and I think people are excited to see him fight.
"We haven't gotten the most attention as the other divisions, but I think having somebody like Jon Jones headline a card and us being the co-main event is a big deal for us."
For Saint Preux, who got the call to replace Cormier two weeks ago and enters off a one-sided decision win over Rafael Cavalcante in February, there were questions about which area of Jones' game he believes will be the biggest factor in the bout and whether competing three times during the 15 months since his opponent last crossed the threshold into the Octagon will play a factor. "It might give me a little advantage" was his response – but the bigger area of focus was on how prepared he felt to step into the cage with the fighter largely considered to be the best in the sport today and how he can make the most of this opportunity.
UFC 197 RELATED: Tickets still available | Full fight card
"I'll be well prepared," the Knoxville, Tennessee resident replied. "I've been training pretty much since the day I took the fight; I haven't taken a break yet. If I'm not in the gym training, I'm doing some kind of treatment – doing hyperbaric chamber, getting (in to see) the chiropractor – making sure my body is up to par, so I definitely feel good and I'm definitely going to be 100 percent walking into the cage.
"I'm just going to give everything I've got and leave everything in the cage. At times, I've felt like I was holding back in different situations, but this time I can't.
"Anything can happen at any given opportunity," added Saint Preux, who has gone 7-2 since transitioning to the UFC from Strikeforce. "I had an opportunity – the fight was offered to me and I took it. At the end of the day, I've been given an opportunity and I'm going to make the best of the situation."

But just as he will be next week in Las Vegas, it was Jones that was in the spotlight and the one fielding the most questions.

While the former champion made sure to take a couple shots at Cormier, questioning whether "DC" would be interested in facing him for the light heavyweight title at Madison Square Garden in November and dropping several "Unbroken" references into his responses, he also offered some insights into his frame of mind when the news of Cormier's injury broke and how this fight and his return to competition as a whole feels like a major part of his ongoing rebuilding process following a tumultuous year outside of the Octagon.

"Initially I was a little upset because I felt as if the time to get my belt back was going to be a few days from now," Jones admitted. "I was a little upset, but I'm the type of guy where I try to find the good in things and look at them as signs and I thought maybe I needed to fight someone else; maybe I needed to fight Ovince beforehand."

"I feel like getting this belt back will be a big part of getting my life back to the way I'm used to it being," Jones added. "I've been a champion since I was 23 and the last five years have been fighting the toughest dudes in the world, people calling me 'The Champ.' That was my nickname and now I don't have that.

"I want it back and so I'm anxious to get this interim championship and also get my actual championship back too."