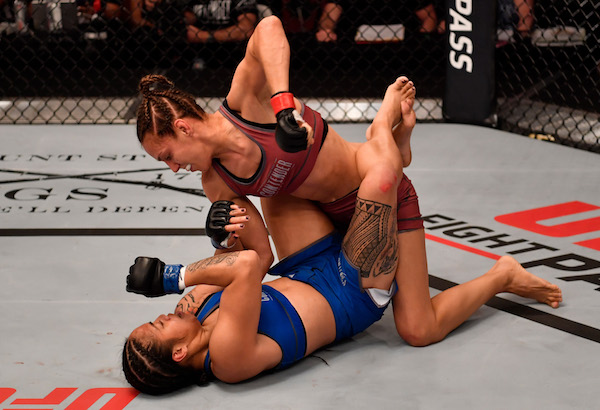 The UFC has seen its fair share of brothers compete inside the Octagon­ – Nick and
Nate Diaz
, Anthony and Sergio Diaz, Rogerio and Rodrigo Nogueira to name a few. But the promotion hasn't ever seen a pair of sisters make their way to the cage. On November 30, that changes.
Antonina Shevchenko makes her UFC debut at the TUF 28 Finale in Las Vegas, taking on 11th-ranked flyweight Ji Yeong Kim. Shevchenko, older sister of flyweight contender Valentina Shevchenko, earned her UFC contract on Dana White's Tuesday Night Contenders Series in June. Like her younger sister, Antonina carries the experience of a prolific kickboxing and Muay Thai career into the Octagon.
Although she's making her first walk to the Octagon in this promotion, Shevchenko is keeping a level head about her debut.
"It's the same business as usual," she said. "I know this is a very important fight, but every fight is important. Every fight that I had in my career during more than 20 years, it was very important.
"When you win your first world championship, it is very important. When you defend your world championship, it is very important. You feel it, and that's why you train very hard. If you don't feel it, you train a little bit slower, so you cannot feel that it's not important or that the fight will be easy."
Business as usual for the 34-year-old comes with the expectation of getting her hand raised. She holds a 6-0 mixed martial arts record and a whopping 39-1 record in kickboxing and Muay Thai. "La Pantera" has a proven track record, and her motivation to compete in the largest martial arts competition in the world is an internal one.
"To prove something to myself is the number one," Shevchenko said. "To feel motivated every time as a martial artist because, martial arts, it's all for me. It's what I'm living for and what I'm interested for and excited about, and it's why the next step, the next motivation, it's really important for me."
Antonina and Valentina don't only share their passion for martial arts with each other. It's a family affair. Their mother, Elena Shevchenko, is a 3rd Dan black belt in Taekwondo and is the president of the Kyrgyzstan Muay Thai Federation.
The older Shevchenko sister said that her mother was "a good sportsman" and desired for her daughters to be the same. Now that both are in the biggest MMA promotion in the world, it's safe to say they've made their mother proud.
"It's thanks to our mom that we have martial arts," Antonina said. "It's the main difference from other families, so we have martial arts because of our mom. We are on this long path because of her too."
That path points toward title contention, and neither sister will leave the other's side in competition. When Antonina Shevchenko stands inside the Octagon for her first foray in the UFC, Valentina will be in her corner as she was in her Contenders Series victory. And when Valentina steps inside the cage to face Joanna Jedrzejczyk at UFC 231 on December 8 for the flyweight title, Antonina will be in her corner.
The constant grind can drain fighters, and one would think helping a sibling in their career can double that exhaustion. However, that's not at all the case when it comes to the Shevchenko family, and Antonina believes they wouldn't want it any other way.
"I just want to say that, in all our lives, it's all about martial arts."
— — —
UFC: This is your UFC debut. How are you feeling? What's going through your mind?
Antonina Shevchenko: Feeling very great, and feeling very motivated and very excited of course for my UFC debut. The best in the world, the best promotion of mixed martial arts. I'm prepared very good for this fight. I understand that everybody will watch it, and it's very important to debut good. I feel strong, I feel motivated and really great.
UFC: Having your sister Valentina, someone who has made the walk to the Octagon more than a few times. What has she told you to expect that maybe caught her off guard her first time?
AS: What Valentina let me know is it's the same actually. Mainly, it's support from her. During the training camp and before the fight, the days before the fight, just mainly support and nothing new because having her by my side is always support to me. This fight, there's no difference against other fights.
UFC: Why do you want to fight in the UFC?
AS: It's the biggest martial arts promotion in the world, and the best fighters are here, so I am in martial arts already, more than 20 years, and I won several Muay Thai titles, and I am 6-0 in mixed martial arts. I just want to be the best of the best and take the next step in my career, so this is a big thing to me.
UFC: To somebody who has never seen you fight, what is an Antonina Shevchenko fight like when you're on your game?
AS: I have all my fights that I've had before, and I will have this fight, my UFC debut so more people can watch me. People can watch me. I don't need to describe my style.
UFC: It speaks for itself?
AS: Fighters, they fight, so you better watch them and not listen.
UFC: Not all siblings can get along let alone help each other the way you and Valentina do in each other's corners. What do you both provide each other during fights? Is it strategy or more mental?
AS: Of course, our main coach, he is all about fighting and the gameplan. But when I have Valentina, she supports me in kind of helping me with what I need. Same with me. She needs something? I help her. She doesn't want to be worrying about where her mouth guard is or to not forget anything, so I will have everything ready for her. Before the fight, you don't need too much support because you already know what will happen. You already spent years and years and years doing this, and mainly, your coach is worrying about your strategy and gameplan. You know your gameplan.
Zac Pacleb is a writer and producer for UFC.com. You can follow him on Twitter @ZacPacleb.